Void Acoustics has launched the Infinite QX range of four-channel amplifiers.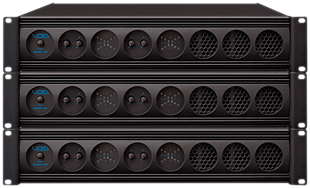 Coming iin response to market demand for higher power form smaller, lighter equipment, the new range is based on the company's Infinite X architecture and comprises three models – the Infinite QX4 (4 x 600W at 4Ω), the Infinite QX5 (4 x 1kW at 4Ω) and the Infinite QX6 (4 x 1.2kW at 4Ω).
Infinite QX amplifiers are designed to provide significantly enhanced performance, using a newly developed advanced MOSFET output stage for high quality and maximum reliability. Each channel also features a fully adjustable crossover filter, enhancing the QX series' flexibility. Each 24dB/octave LR crossover can be configured as either hi-pass or lo-pass at any frequency between 70Hz and 5kHz.
Void claims end-users' reactions to the Infinite QX's performance and functionality have already been extremely positive. 'We are getting some great feedback, reflecting our own excitement about the new range and its potential,' says Director Alex Skan. 'We are already working on the next generation of complex, higher performance products – building up our reputation for producing powerful and reliable equipment in the UK.'
More: www.voidaudio.com