Peavey has released the IPR 1600 DSP and IPR 3000 DSP two-channel power amplifiers with Waves MaxxBass psychoacoustic processing – joining the Crest Audio E-Lite Series.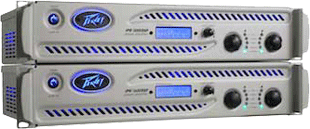 Intended for front-of-house and monitor applications, the IPR 1600 DSP and IPR 3000 DSP models combine loudspeaker management with the wight power and performance of the IPR line. Onboard digital signal processing includes preset banks for popular loudspeaker types and configurations, as well as Waves MaxxBass psycho-acoustic processing.
The IPR DSP uses a set-up wizard to determine EQ curves, delay speakers, crossover (full-range or full-range with sub), high-pass and-low pass; adjust a four-band parametric EQ and horn EQ; and specify the amount of Waves MaxxBass processing from 0-100 per cent. MaxxBass uses psycho-acoustics to calculate harmonics that are related to the fundamental tones of sound. When combined, these creates the effect of deeper low frequencies.
There is a bank of popular Peavey and generic loudspeaker types, including models from the Peavey QW, SP, EU, Impulse, PR and SSE Sanctuary Series, as well as standard 10-, 12- and 15-inch loudspeakers. Available EQ curves include rock, pop, jazz, hip hop, contemporary worship, speech and acoustic. A built-in security lock is selectable for all functions except volume.
Inputs are combination jack and XLR, while outputs are combination jack and twist-lock connectors. Safeties includes proprietary DDT speaker protection with multi-point clip sampling as well asDC, Temp, Signal and Active safeguards, all referenced on the front panel with LED indicators.
Cooled by a variable-speed fan, the amplifiers have switch-mode power supply and use a high-speed class-D circuit topology, the IPR 3000 DSP power amplifier is rated at 1,490W RMS/channel @ 2Ω (840W RMS x2 @ 4Ω) with a weight of 7.8lbs, while the IPR 1600 DSP offers 900W RMS/channel @ 2Ω (5,115W RMS x2 @ 4Ω) and weighs 7.25lbs.
The Peavey IPR 3000 DSP has an MSRP of US$799 and the IPR 1600 DSP of US$699.99.
See also:
Crest Audio E-Lite Series
More: www.peavey.com