UK loudspeaker manufacturer EM Acoustics is marking its tenth anniversary with the launch of 13 products across four different ranges, including a new range of amplifiers.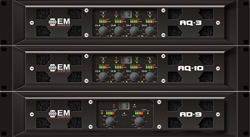 The AD and AQ Series of professional power amplifiers are designed and manufactured in the UK by MC2 Audio. Ideally matched to all loudspeakers throughout the EM Acoustics catalogue, the range currently comprises three models: the AD-9 two-channel power amplifier, AQ-3 four-channel power amplifier and AQ-10 four-channel power amplifier.
All three models feature switchmode power supplies which are capable of delivering huge transients with no perceptible low frequency 'sag', thanks to the large power reservoir. This, combined with their lightweight aluminium construction, make the AD and AQ Series amplifiers well suited to concert and regional touring, as well as use in fixed installations.
The AQ-3 uses MC2's proprietary current-driven output stage, whereas the AD-9 and AQ-10 are class-D designs for maximum power density relative to size and weight.
AD and AQ Series amplifiers have been selected for their exceptional reliability and sonic excellence as well as for their power ratings. There is an amplifier suited to every EM Acoustics loudspeaker, whatever the application.
More: www.emacoustics.co.uk