Ashly Audio is now shipping the pêma (Protea Equipped Media Amplifier) that was previewed at the recent InfoComm show.
The installation amplifier adds open-architecture DSP functionality to Ashly's multichannel amplifiers, lowering overall system cost, occupying less space, improving energy efficiency, and both speeding and simplifying system installation and programming. Four- and eight-channel versions are available at 125W and 250W per channel. 'With the addition of input sources and output speakers, pêma is capable of handling everything else for small- to mid-sized sound systems,' says Dave Parse, CEO of Ashly Audio. 'Pêma is a house-of-worship-in-a-box, restaurant-in-a-box, bar-in-a-box, retail store-in-a-box or a courtroom-it-in-a-box.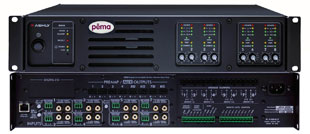 In addition to DSP algorithms such as ambient noise compensation, advanced automatic feedback suppression, automatic mixer, and a full complement of filters, EQs, delays, and the like, pêma offers DSP control of the amplifier functionality as well: selection of bridge-mode operation, HPF settings for constant voltage system networks, stereo-linking of channel pairs, mic/line/tel-page functions on Channel 1, full control of ducking priorities, and full-range remote-gain control capability.
Pêma's standard 8x8 I/O count and formats are suited to small- to mid-sized installations. Each variant has eight balanced input channels that are software selectable for mic or line levels. The first channel may also be set for a transformer isolated, TEL-PBX level. Additionally there are eight pairs of summed-mono RCA connectors optimised for consumer line-level devices. Eight preamp auxiliary outputs allow integrators to route signals from the matrix mixer to anywhere the system requires. Both CobraNet and EtherSound digital I/Os are fully supported.
Set-up is accomplished using standard 10/100 Ethernet protocol and Ashly's Protea NE Software on a PC platform. Hot-plug DSP placement allows users to insert any function into any channel block, even when running live audio. Automatic DHCP network IP configuration reduces network set up time. Lockable front panel controls and multi-level software security with password access guarantee a tamperproof audio system.
More: www.ashly.com