German manufacturer t&mSystems has released the ProjectMix818, ProjectMix241, Project1240Z, Project120MP and Project240MP installed sound line.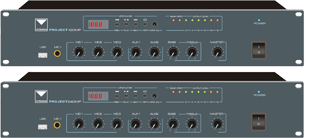 The ProjectMix818 features four line and four mic/line inputs that can selectively be switched as the source for any of the output zones. A further mic input can also be sent, with level control, to any or all zones in addition to the selected source. The unit also has two inputs for t&m paging mics. These paging mics have selection switches for each zone or all-zones and an expansion module can be used to expand the paging mic by another eight zones if two or more ProjectMix818 units are linked together.
Each zone features an additional local input to feed a signal directly into that zone, a facility which enables the house PA system to be used in each zone for background music, paging and local events where an additional microphone or PC may be used for the sound source. Up to four ProjectMix818 units can be linked to expand the system to a maximum of 32 zone outputs and the unit incorporates contact closures to override all other inputs when the system is required to provide a Voice Alarm facility. The ProjectMix818 also allows for 24V DC operation.
The ProjectMix241 is a stereo rack mixer with two microphone and four line inputs. The microphone inputs can be switched to line for maximum flexibility. The output section offers a stereo line main out and an additional stereo recording output. Each input features a separate input gain control, 48V phantom power and a Vox priority function that can be enabled for the microphone inputs. Each input also features two-band adjustable EQ. A key feature of the ProjectMix241 is the simple user interface, providing ease of use by unskilled operators.
The Project1240Z is a 70/100V or low-impedance mixer-amplifier, with four microphone and two line inputs plus one input each for telephone paging and an EMC system. The unit features 24V phantom power separately for all microphone inputs, a Mic Input 1 priority function and dedicated two-band EQ for all inputs. The Project1240Z can drive 70V, 100V or low-impedance loudspeakers and, in addition, there is a five-zone output section for 100V line loudspeakers. Each of these outputs has a dedicated level control on the front panel of the unit.
The new units will be unveiled at the coming ISE 2012, where they will be exhibied with the 120W Project120MP and 240W Project240MP mixer amplifiers. These incorporate a USB input on the front panel that can handle USB sticks with up to 8Gb of data. An internal MP3 player can be controlled via the front panel keys or via the included IR remote control. In addition these units offer three microphone and two line inputs, which can be tuned with two-band EQ. Both the Project120MP and Project240MP can drive 70V, 100V and low impedance loudspeaker systems.
More: www.t-m-systems.com