German manufacturer t&mSystems has launched ProjectMix818 – 'a flexible and competitively-priced eight-zone mixer with paging functions for installed public address and music applications'.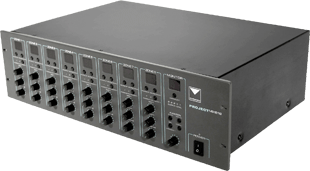 ProjectMix818 offers four line and four mic/line inputs that can selectively be switched as the source for any of the output zones. Easy-to-read LCDs for each zone show which input source is in use and a similar LCD is also used on the remote control panels.
A further mic input can also be sent, with level control, to any or all zones in addition to their selected source. The unit also has two inputs for t&m paging mics. These have selection switches for each zone or all-zones and an expansion module can be used to expand the paging mic by another eight zones if two or more P units are linked together.
Each zone features an additional local input to feed a signal directly into that zone, a facility which enables the house PA system to be used in each zone for background music, paging and local events such as seminars, where an additional microphone or laptop PC needs to be used for the sound source.
Up to four ProjectMix818 units can be linked to expand the system to a maximum of 32 zone outputs and the unit incorporates contact closures to override all other inputs when the system is required to provide a voice alarm facility. ProjectMix818 also allows for 24V DC operation.
'The ProjectMix818 is one of a range of installation products that t&m will be launching,' says t&mSystems Sales Director, Kai Boeckmann. 'The range is focused on providing all the features the contractor needs in an easy-to-install, cost effective package. For example the remote control panels for the ProjectMix818 connect via Cat5, which provides a simple solution for control data, audio signal and power supply using just one cable.
'A complete solution is equally important, Boeckmann'continues, 'so our paging mics, PageMic8 and PageMic8E, and control panels, RM1, RC1 and RCML, have been designed to complete the system and integrate the facilities the application requires'.
The ProjectMix818 will be available from stock at the beginning of January 2012.
More: www.t-m-systems.com