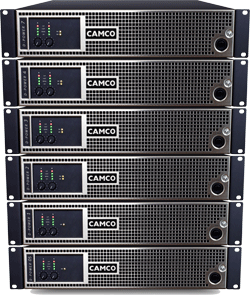 Camco's D-Power family of power amplifiers has been expanded with the release of the D7, D1 and D05 models.
All three models have created high demand for the German manufacturer, who reports, a busy month as they meet the demand from their global distribution network.
With the introduction of these models, the D-Power series of two-channel amplifiers extends the series to six models.
Covering a meaningful power output range from 250W/channel (4Ω) to 2.3kW/channel (4Ω), the D-Power series is suited to a wide range of professional applications. Featuring Camco SMPS technology, comprehensive protection circuitry and limiters, the D-Power series claims 'exceptional' price-to-Watt ratio throughout the series.
More: www.camcoaudio.com