Remote Technologies Incorporated (RTI) is now shipping its AD-8 eight-zone distributed audio system. The unit acts as an extension to RTI's control systems, providing a cost-effective and adaptable solution for whole-house or facility-wide audio distribution.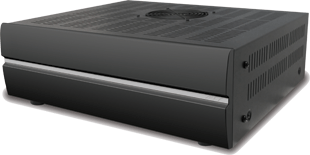 The unit provides the audio switching, amplification, and distribution functions, while RTI central processors and user interfaces manage the audio source control, user input, and status feedback. Information such as the selected source, volume level, and tone control settings are available for each zone, with more advanced information such as song playlists, cover art, and tuner RDS data also available through integration with RTI's two-way enabled control products.
'The AD-8 is the ultimate multiroom audio solution, providing a simple, low-cost way to distribute music from a number of audio sources throughout any residential or commercial installation,' says RTI VP of Sales & Marketing, Pete Baker. 'Based on the success of the AD-4 and the amount of interest the AD-8 has received since its release, we expect it to make a big splash at Cedia.'
Containing both a matrix switching preamp and a built-in Cool Power class-D amplifier, the AD-8 supports eight local audio source inputs that can be further enhanced with remote audio sources. The distributed audio system provides 25W/channel output and can be paired with RTI's 16-channel CP-1650 audio amplifier for additional speaker output in large installations.
Featuring a compact, low-profile design, the AD-8 is suitable for rackmount or free-standing installations. Access to audio and control of remote sources is via the RSP1 accessory wall plate and a single Cat-5 cable. A mute function can be used to silence the audio when phone system or door alarm rings. To meet the needs of larger projects, RTI's open architecture enables the control of multiple AD-8 units for additional zones.
The AD-8 is available at an MSRP of US$1,799.
More: www.rticorp.com