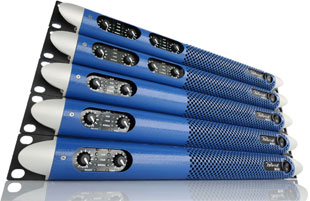 Powersoft released the M Series of power amplifiers at InfoComm – comprising two four-channel and three two-channel versions.
M Series amplifiers come in a one rack unit chassis, 358mm in depth and weighing just over 7kg. The M50Q and M28Q are four-channel models, delivering up to 1.25kW/channel into 4Ω, while the M30D, M20D and M14D offer two channels each with a maximum output of 1.5kW/channel at 4Ω. The amplifiers will deliver 360W/channel into 8Ω for use a range of applications.
The models also feature Powersoft's plug-in DSP module, which can be preset to meet the needs of a particular installation including settings for crossover frequency and curves, basic system EQ and protection functions. These parameters cannot be tampered with, making the M Series a 'plug-and-safe' power amp.
'Because of our advanced engineering and design, we will be able to offer M Series amplifiers at a very attractive price without compromising the sound quality and features,' says Claudio Lastrucci, Powersoft MD. 'This makes the M Series an outstanding value for small to medium sized PA systems and stage monitors for live music and DJ applications. Even for dry hire, M Series is safe with the DSP hidden inside. Clubs, bars and other entertainment venues often have to pay extra for their systems to be tamper-proof. The M Series includes this as standard.'
The new amplifiers will be available later this year with the same AESOP network technology as for the Powersoft K Series.
More: www.powersoft-audio.com