Addressing the growing immersive audio market, Finnish loudspeaker manufacturer Amphion has announced the Amp400.8 amplifier.
'Demand for Amphion equipped immersive rooms has exploded during the past couple of months,' says Amphion CEO, Anssi Hyvonen. 'The first Dolby certified Atmos room in Italy was installed a few months ago, and the only mixing/mastering Atmos room in Finland with the Dolby codec has just become operational in Helsinki.'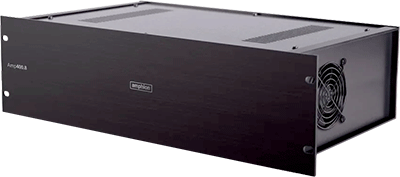 Designed specifically to meet the needs of multichannel working and proliferation of Dolby Atmos format in film, television, gaming and music production, the Amp400.8 employs advanced class-D technology and a proprietary buffer stage, to offer up to 410W across up to eight channels for immersive audio production.
The amplifier features Neutrik XLR and Speakon connectors for each channel, providing easy and secure connectivity across the system. Although optimised for use with Amphion's family of monitors, it is also suitable for use with a wide range of passive speakers.
'Atmos has the potential of being very interesting to the end customer, but only if it is done right,' Hyvonen says. 'We strongly believe that the only way to use the considerable, often updatable DSP processing power of the latest immersive monitor controllers is to keep the monitoring chain as transparent as possible. Therefore, it should be free of any unnecessary additional DSP or other circuitry. As the number of channels grows, even the slightest shortcomings in monitoring lead to lack of cohesion, which is audible through speakers as well as headphones.'
The Amp400.8 is available for US$4,500 and is shipping now.
More: http://amphion.fi/create