Stewart Audio has released the CVA100-2 CobraNet enabled power amplifier.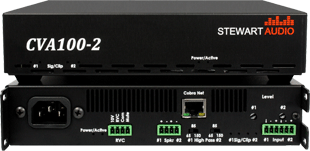 Extending the US company's line of power amplifiers, the CVA100-2 is a 200W, 70V, 100W/channel constant-voltage amplifier that fits into a half-rack form factor. As Stewart Audio's first amplifier to feature a factory-installed CobraNet option, it lends itself to use in networked audio applications, in addition to courtrooms, retail environments, restaurants/bars, educational /training facilities, sound masking, and paging and notification systems.
The CVA100-2 uses CobraNet via an optional factory installed daughter card, allowing it to act as an endpoint to any new or existing CobraNet system. This capability allowsi it to be placed anywhere sound is required and receive up to two channels of audio through its network interface.
The CVA100-2 incorporates Stewart Audio's proprietary Signal Sense Power Technology (SSPT) that ensures the amplifier is only powered when there is a signal present – thus saving energy and extending product life. Equally notable, it is Energy Star compliant.
Rounding out the CVA100-2's feature set are a selectable high-pass filter plus remote volume control and muting, with optional control via RS232 or infrared. In addition to the RJ45 Ethernet connector (if installed), the amplifier's rear panel provides provides LEDs for visual confirmation of Power, Clipping, Signal Present and active, as well as provisions for defining the 65/150Hz High Pass filter #1 and #2 settings. Euroblock connectors (3.5mm) are provided for access of control and muting as well as input and speaker connections. The unit's front panel also provides the LEDs plus Power/ active.
'With the available CobraNet option, the amplifier can integrate into new or existing networked audio environments in addition to conventional 70V distributed applications,' says Brian McCormick, Chief Marketing Officer at Stewart Audio. 'Further, our Signal Sense Power Technology makes this model extremely efficient and its compact, half-rack form factor and a weight of less than four pounds make the CVA100-2 well suited to a multitude of installed sound projects. I'm confident designers, integrators, and installers alike will find it a compelling choice.'
More: www.stewartaudio.com