RCF Audio has launched the DMA Series of digital matrix amplifiers, using class-D topology and DSP management of inputs and outputs in terms of routing and equalization.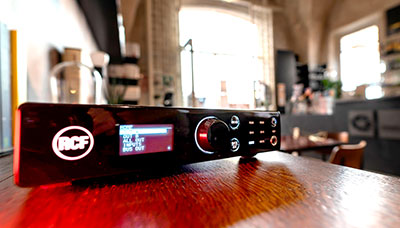 The DMA Series provides expensive processing functions, including speaker presets, a proprietary bass enhancer algorithm, FIR filters, and environmental equalization.
Each DMA unit can distribute up to four audio channels to satellite units. This enables installers to scale system power for larger applications and to easily upgrade a multi-room architecture.
The connection can be done with a single Cat5e cable. Each satellite unit can be differently set using the DIP switch on the rear panel to receive the required channels.
RCF RDNet software supports configuration and management of DMA units in any venue. It helps to monitor and control all DSP settings and ensure the best system performance. RDNet is a secure and robust management tool for small, medium and large-sized systems, as well as complex and extended installations. Based on a proprietary network protocol, RDNet, provides straightforward monitoring and intuitive control of the RCF audio system down to every connected device/object
Key features:
Two line stereo inputs (RCA).
One mic/line input (balanced).
One paging input (RJ45).
One stereo line/sub output (RCA).
Four-channel audio bus (RJ45).
One remote mute contact.
Two wall-mount remote control ports.
One RDNet In/Out (optional).
Control/firmware update via USB.
The extremely compact size, design and robustness of DMA Series amplifiers suits them to a wide range of potential applications.
More: www.rcf.it