Ashly Audio has released the CA and FA Series Power Amplifier lines, both available in various configurations.
'Both product lines are designed specifically to meet integrators' major needs,' says VP of Marketing & Business Development, Noel Larson. 'The CA Series uses proprietary designs that show, in our testing, that they are the most efficient amplifiers on the market. Meanwhile, the FA Series is bringing the form factor of Ashly power amplification down to an incredibly small size, allowing for more integration options across houses of worship, schools, corporate environments, and the retail and hospitality space.'

The CA Series comes in six different configurations – three two-channel models and three four-channel models – these come in 500W, 1kW and 1.5kW per channel (@ 4Ω) versions. The CA Series can also be run into 2Ω without a drop-off in power. Up to 32 32Ω selectable IS Series loudspeakers can be run from a single four-channel CA amplifier. In commercial installations CA can deliver 70V and 100V power with no reconfiguration required.
Ashly's proprietary D-Max technology allows operation of two CA 1.54s (6kW total each) on a single 20A service. The CA Series features Dynamic Power-Factor Correction, which adds intelligence to power efficiency by tracking fluctuations in current, rather than sampling at the peaks.
Also, new SailFlow cooling design brings a bi-lateral air-cooling system that maintains a low operational temperature. By directing internal airflow strictly over the areas that generate the most heat, rather than arbitrarily over the whole amp, Ashly ensures its CA Series provides reliable and stable operation, even under heavy loads.
These new technologies, installer-friendly Euroblock and XLR combo connectors and stable operation down to 0.2Ω make the CA Series suited to use in the education, house of worship, sports, retail and restaurant spaces.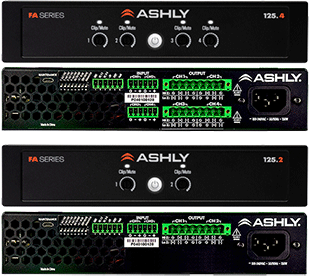 The FA Series Power Amplifier line is available in two half-RU versions, and comes in four-channel (4 x 125W) or two-channel (2 x 125W) configurations. A 1U option is also available in a four-channel (4 x 250W) configuration. These configurations allow installation small of spaces – under conference tables, beneath reception area counters and behind large-screen TVs.
The FA-125.2 and FA-125.4 can share between channel pairs, up to a total of 250W total per pair, allowing a system to have a 180W load on one channel and 70W on the other. If only a single channel is driven, 250W can be output to drive a heavier load such as subwoofer. The FA Series also features energy-saving cooling with quiet fans.
More: www.ashly.com