Stewart Audio has released the AV100 installation power amplifier.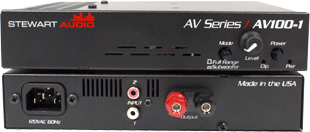 As the latest addition to its line of versatile power amplifiers, the AV100 is designed for use with both subwoofers and full range loudspeakers in commercial and residential applications, as well as studio installations.
The AV100's competitive pricing, lightweight design, suit it to applications including boardrooms, classrooms, A/V projection systems, audio/video production suites, project studios and broadcast environments. It is also aimed at fixed installations, where amplifiers are located in the listening environment and, with the available pole and universal mounting brackets, the AV100 can be mounted behind flat panel displays, recessed in lecterns, and placed in countless other locations.
The compact, half-rack 100W monaural amplifier is optimised to drive 4Ω and 8Ω loads and, with the inclusion of a low-pass filter, can be used to drive subwoofers. It has a pushbutton switch to toggle between Full Range (30Hz to 20kHz) and Subwoofer (30Hz to 150Hz) modes, and uses LEDs for visual confirmation of Power and Clipping. The rear panel provides RCA- and banana plug-type connectors. The AV100 also uses a switch mode power supply.
'Our AV100 power amp features a rugged, reliable design based on a time tested platform that has been proven in countless applications by the PA50B family,' says Brian McCormick, Chief Marketing Officer for Stewart Audio. 'The result is an amplifier that delivers clean, full–range dynamic power and the world-class reliability Stewart Audio products are well known for. I'm quite certain integrators, audio professionals, and others will find the AV100 a compelling choice for a myriad of sound reinforcement applications.'
More: www.stewartaudio.com