Next-proaudio has announced a new rack solution for performance flexibility and set-up simplicity of its loudspeaker systems. The new N-Raks allow multiple configurations for the entire Next-proaudio product range. N-Raks are equipped with Powersoft T604 power amplifiers, featuring Dante audio networking.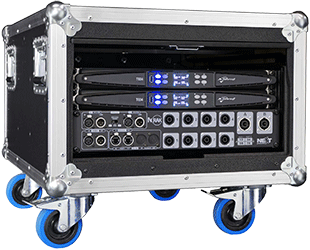 The N-Raks were created as a universal platform developed to facilitate cross-rental between Next-proaudio users worldwide, and to ensure compatibility with the cabling standard of the systems. The complete N-Rak series comprises N-Rak 6, N-Rak 12, N-Rak 20, N-Rak 40 and N-Rak 80.
The N-Rak 6 and N-Rak 12 have Dante, AES3 and analogue inputs for multiple connections, simplifying the set-up process and offering a more efficient solution than the former LA Rack. With Powersoft amplifiers already built in and no assembly required, it's an easy-to-configure an all-in-one amplifier set-up that eliminates the process of building amplifier racks.
The N-Rak touring rack offers an advanced rack solution for all Next-proaudio systems covering signal and power distribution in a plug-and-play touring package. N-Rak versatility extends to delivery as well, since its dimensions were projected to allow easy shipment on European trucks, sea containers and other transportation modes.
The N-Rak 6 and N-Rak 12 modules comprise a 4U-high rack with two Powersoft T604 (N-Rak12) amplifiers or a single Powersoft T604 (N-Rak6) amplifier, along with a 2U-high audio distribution panel on the front and a 2U-high power distribution panel on the rear.
N-Raks feature Powersoft Armonía software for simplified and standard control. The complete digital audio signal management system based on ARM Cortex A-8 processor and TI C6000 DSP platform heralds new and innovative level of signal processing, providing non-boolean routing and mixing, multi-stage equalisation with raised-cosine, IIR and FIR filters, delay up to 4s in input processing and 200ms for time alignment, gain and polarity adjustment, crossover, peak limiters, TruePower limiters and Active Damping Control.
More: www.next-proaudio.com