Crown Audio has introduced the XTi 2 Series of amplifiers for portable PA applications.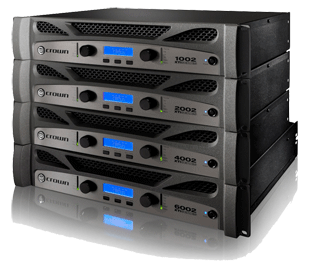 Providing a suite of integrated speaker processing, the new amplifiers eliminate the need for external crossovers, limiters and EQs.
The XTi 2 features enhanced control with Crown's PeakX Plus limiters – derived from the framework found in I-Tech HD and the new XLS DriveCore Series amplifiers – which gives threshold, attack and release time control. An improved subharmonic synthesiser claims more accurate control over the frequencies targeted, and can be tailored for a specific system or room setup.
Advanced Thermal Control enables users to tailor the fan performance to specific application. XTi 2 also increases the number of presets that can be saved and recalled from 20 to 30. Enhancing power management, a new status section on the amplifier allows for the monitoring of power supply temperature and AC line voltage making troubleshooting even easier
XTi 2 amplifiers are also fully compatible with HiQnet Band Manager software. The free-of-charge application provides a sleek function-driven interface, which has been re-skinned to simplify system set-up and management to configure and control a rack of Crown XTi and now XTi 2 series amplifiers.
The amplifiers feature integrated rack handles and an enhanced cast front panel that is more durable. The XTi 2 1002, 2002 and 4002 weigh 18.5lbs, and the XTi6002 weighs in at 24lbs.
More: www.crownaudio.com