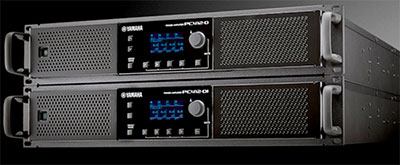 Yamaha's PC Series D and DI power amplifiers feature signal processing, Dante audio networking and a 20x8 input matrix allowing audio from analogue or Dante inputs to be output via Dante to another amplifier after onboard processing.
The amplifiers come standard (D) or installation (DI) versions, both available with a power output of 600W or 1.2kW (8Ω) and delivering stable operation at a high load of 2Ω. The DI models can handle high-impedance connections, allowing them to drive multiple speakers from a single channel.
The onboard processing include effective FIR EQ2, 16-band parametric EQ, crossover, filter, delay and protection (including peak and RMS limiting). Even in a system with no mixer or signal processor, the matrix function's routing makes it possible to perform audio signal processing with the internal DSP. A class-D amplifier unit delivers impressively low distortion with exceptional efficiency.
Amplifier parameters and configuration settings can be set flexibly and quickly from the front panel or via the dedicated ProVisionaire Amp Editor amp management software. In addition, all models are compatible with Yamaha's ProVisionaire Control/Touch wireless remote control and monitoring software applications.
More: https://uc.yamaha.com