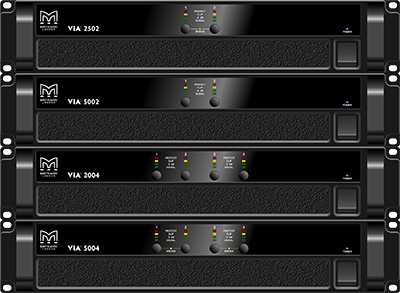 Martin Audio has announced supporting electronics for Adorn series of on-wall installation loudspeakers – also prompting a 'significant shake-up of the company's amplifier and controller portfolio.
VIA is a new range of four high-performance, cost-effective power amplifiers designed primarily for installation use, but also suited to portable applications.
VIA is partners all Martin Audio loudspeakers where networking and onboard DSP are not required, but where full system set-up is necessary, either the existing DX0.5 controller or newly announced DX4.0 can be added. DX4.0 is a 4-input/8-output loudspeaker processor and matrix featuring networked audio via Dante, high quality 96kHz processing, VX limiting as well as FIR optimisation support for O-Line with Scalable Resolution.
'We have enjoyed huge success with the new iKon amplifiers for our Wavefront Precision series and this VIA range of amps offers our users affordable high performance amplifiers for use with our other loudspeakers,' says company MD, Dom Harter.
More: https://martin-audio.com