Spanish manufacturer Work Pro has brought app-based Bluetooth control to its PA 100 MX installation amplifier and MD 82 AX auto-mixer in the PA 200 MX and MD 82 AX MkII.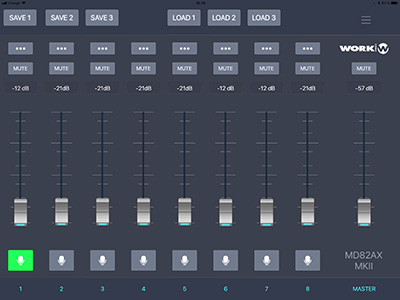 The PA 100 MX is Work Pro's half-rack, three-input 100W installation amplifier with two line inputs and one mic input, a built-in feedback destroyer and a switchable low-impedance (4/8Ω) or 70/100V output. As well as adding Bluetooth control, the updated PA 200 MX doubles the power output of the PA 100 MX to 200W while offering all of the handy features of the original.
The MD 82 AX MkII retains all the functions of the original auto-mixer (auto-mixing with a selectable Target level and switchable phantom power for up to eight mic channels with full bass, mid and treble EQ, a four-level automatic feedback destroyer function, and high-pass filtering) but with all of these features additionally accessible and controllable via Bluetooth.
The Bluetooth implementation improves on the existing RJ45-based network control offered by the original PA 100 MX and MD 82 AX. Control of the updated devices is now possible via a Bluetooth control app for iOS or Android tablets or smartphones. The user interface controls all the major features on the PA 200 MX (including mic channel input gain, the settings on the feedback destroyer, and output gain) and those of the MD 82 AX MkII (for example per-channel input gain, target levels per channel for auto-mixing, feedback destroyer and EQ settings, and per-channel mutes and output level settings). What's more, preset configurations of all of these major settings can be stored via the Bluetooth control app for both devices and recalled remotely when required: two complete system configurations on the amplifier and three for the auto-mixer.
'Remote control has become increasingly important to the installation audio market in recent years,' explains Work Pro' Chief Sales Officer, Juan José Vila. 'While we will continue to offer networked functionality via RJ45 connectors, we realised that app-based operation via Bluetooth would provide our integration customers with a more elegant networked remote control solution. And of course, these will not be the last Work Pro units to offer Bluetooth control. Watch this space…'
The Bluetooth-capable PA 200 MX and MD 82 AX MkII are shipping now.
More: www.workproaudio.com