EAW has announced the UX Series, describing a complete amplification and processing solution for install and production using EAW loudspeakers integrated through EAW's Greybox technology and Resolution software.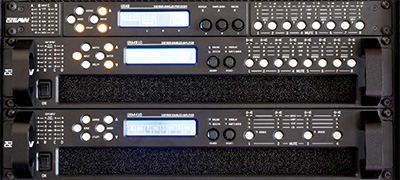 The amplifier series comprises two four-channel amplifiers – the UXA4406 and UXA4410 – as well as the eight-channel UXA4810. These class-D amplifiers offer a combination of power and audio performance integrated with precise 48kHz digital signal processing. The four channel models deliver up to 2.5kW (5kW bridged), while the UXA4810 delivers 1.25kW per channel (2.5kW bridged).
Incredibly versatile, each amplifier channel can be configured to deliver its maximum power into two, four or eight ohms, nominal loads as well as 25V, 70V and 100V constant coltage (CV) lines. This offers designers and integrators unparalleled flexibility and cost effectiveness.
The final component of the UX Series is the UX48 processor, a high-performance and easy-to-use signal processor that offers processing for four inputs and eight outputs. It takes advantage of the latest analog to digital conversion and DSP technologies to deliver impeccable audio. The full front panel user interface offers intuitive operation.
'We are excited to provide our customers with an amplifier solution that offers pristine audio quality in an incredibly durable and reliable package,' says EAW General Manager, TJ Smith. 'Set-up through Resolution software simplifies loading the appropriate Greybox settings and leverages the power of EAW core technologies such as DynO and Focusing while minimising time spent tuning the system.'
The UX Series will ship in Q2 2018.
More: www.eaw.com