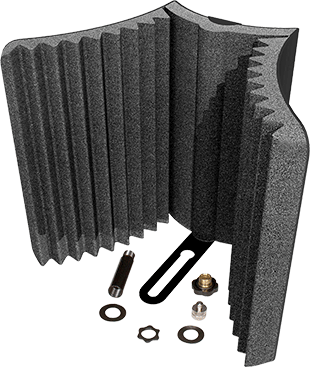 Auralex Acoustics has announced the MudGuard v2 Microphone Shield, which isolates mics by eliminating external noise bleed and filtering out excessive room ambience and off-axis sound.
The Auralex MudGuard v2 uses Auralex Studiofoam set in a patent-pending multi-radius shape. The unperforated, solid back on the shield provides maximum isolation by blocking sound from the recording environment, through the shell, to the microphone. The included hardware allows the MudGuard v2 to be mounted on most microphone stands and allows adjustment of the microphone proximity.
Key features:
· Convex shape minimises sound energy focusing on the microphone.
· Reduces room ambiance and off-axis sound.
· Engineered with Auralex Studiofoam.
· Mounts on most mic stands.
· Dimensions: 16-inch x 10-inch x 14-inch.
More: www.auralex.com