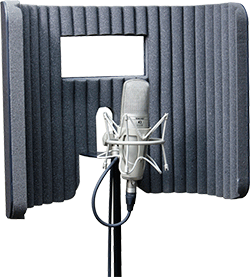 Primacoustic has updated its close-field acoustic absorber, adding a window to improve sight lines between a vocalist/musician and recording engineer/producer.
'The VoxGuard is one of the most popular products in our line of Iso-Tools,' says Primacoustic's Jay Porter. 'With thousands shipped world-wide we heard feedback from customers who suggested the inclusion of a viewing window would allow for eye contact and improve the recording experience. This simple solution can now be found on the new models.'
Re-named the VoxGuard VU, the improved product features a 3x7-inch window but retains the benefits of acoustic isolation for use in a recording studio. The lightweight design also makes it an ideal tool for mobile recording. The VoxGuard VU's high-impact ABS outer shell keeps unwanted noise out while slotted ports prevent excess bass build-up. Simple mounting hardware and a rear access cable port allows any handheld or studio microphone to be articulated and directed at a specific source.
The MAP for the VoxGuard VU is US$99.99.
More:
www.primacoustic.com