Primacoustic has added the Black StratoTile to its line of acoustical ceiling treatments.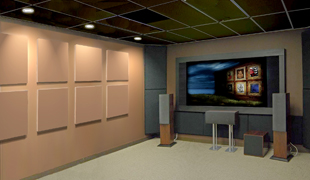 'Our original StratoTile product is white and although they are paintable, the process is time consuming,' says Primacoustic Product Specialist, Jay Porter. 'Many of our customers are installing these tiles and we've discovered a market demand for the tile in a basic black. It works for so many applications and it made sense for us to eliminate the extra painting step for our customers."
Black StratoTiles are great looking, high-performance ceiling tiles featuring 0.75-inch thick (200mm) high-density 6lb/cu-ft glass wool construction for effective sound absorption and are encapsulated in fine micromesh with sealed edges to retain the minute glass fibres.
Once in place, the black StratoTile works with the air space above the panel to absorb all frequencies down to 125Hz – well suited to installations such as nightclubs where excessive reverberation and echo inside the room can severely interfere with the sound from a live band, DJ or PA system. In home theatres these tiles greatly improve the sound of the room and contribute to a lower light, more movie theatre-like environment. In a project studio they work perfectly for drop ceilings common to basements where many studios are built. They are ideal for restaurants where a more intimate environment is appropriate. Architects looking to achieve a warmer, more intimate overall desired ambient effect can choose them for meeting rooms, boardrooms, video and telepresence conference rooms.
Designed to retrofit into existing T-Bar systems, the black StratoTile is available in both square 24-inch x 24-inch (600mm x 600mm) and rectangular 24-inch x 48-inch (600mm x 1,200mm) panel sizes. The black StratoTile has been fully tested to meet the stringent ASTM-E84 fire and smoke development requirements for Class-A designation and safe use anywhere.
More: www.primacoustic.com