As development and discussion of NFPA 72 continues on the American continent, Europe is pursuing its own EN/IEC 60849 – both standards cover the requirements for voice alarm systems in public areas.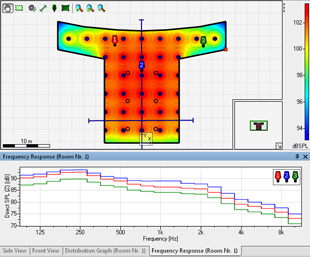 While most conditions can easily be tackled by detailed planning, minimum speech intelligibility still remains a key priority in system design. In response, AFMG has released Ease Evac, tailored for easy and quick simulation of large distributed loudspeaker systems and similar applications.
Until now, the common approach for both system designers and system integrators to guarantee an STI (speech intelligibility index) of 0.5 or more was to over-design voice alarm systems. The result was more loudspeakers , more amplifiers, more batteries or generator power, increased cabling and installation work, higher costs. Additionally, the reduction of speech intelligibility through reverberation and echoes has often been underestimated even by professionals.
AFMG´s Ease Evac software allows drafting of an acoustic 3D model of rooms (hallways, foyers, conference rooms or even airport gate areas) within minutes. A set of tools are available to add extensive systems of ceiling loudspeakers or additional wall-mounted systems. On a modern PC, Ease Evac will take only a few seconds to calculate a precise graphical prediction of the potential system´s performance in the space.
'With Ease Evac, we are introducing a dedicated software package which provides an elegant and efficient solution to one of the most pressing problems in voice evacuation systems,' says AFMG MD, Stefan Feistel. 'Since Ease Evac is using the same high-resolution GLL loudspeaker data files used in all simulation packages by AFMG, a large database of loudspeakers is readily available. Leading manufacturers such as Honeywell in the US and Bosch in Europe are excited about the new possibilities Ease Evac offers to the life safety business. While our full simulation package Ease is capable of simulating even the most complex rooms and targets professional consultants and engineers, Ease Evac focuses on conventional rooms and simplifies the design approach thus saving time significantly.'
Ease Evac renders mappings of the direct or total SPL delivered by the system in the room. S/N ratio can also be investigated, but still more important is an accurate prediction of STI. In addition to STI, Ease Evac also provides CIS and ALCons mappings according to users' needs. Calculations are performed either on the basis of a reverberation time measured and entered by the user or derived from the wall materials and surface areas of the room model. A large, expandable database of materials is provided, of course.
All results can be exported as bitmap graphics, PDF or RTF to be used in all phases of a project. From generating a tender all the way to installing the loudspeakers, the extensive tables delivered by Ease Evac will speed up design work, promote system efficiency and reduce errors.
More:
www.afmg.eu