Imperative Audio has announced the Portable Vocal Booth, the first product from the Studiospares Europe division.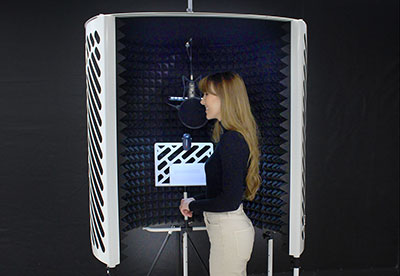 'We believe that creating the right environment for you and your microphone is paramount for achieving a great sound and performance,' the company says. 'Space, comfort, versatility and acoustics are all key elements for any vocal or instrument booth. Now you have all this – plus portability.'
The Portable Vocal Booth (PVB) is designed to offer 'real booth' performance to singers, voice over artists, broadcasters, podcasters and recording professionals. But unlike traditional booths, it is collapsible.
With the legs retracted, the PVB sits 1.18m high for amplifier isolation and miking in the studio. With all five legs fully extended, it PVB stands at 2.1m. A light aluminium cylindrical design largely eliminates the issue of standing waves usually found in and around corners of vocal booths and is spacious enough for just about any performer especially for long periods.
The acoustically treated roof is easy to add securely to the PVB and features a 300mm channel that allows an overhead mic stand to be lowered into the booth.
With three high-performing layers of acoustic treatment and the optional roof, the Portable Vocal Booth offers 0.07s reflection time (RT60 in accordance with ISO 3382-2 Measurements) and an average of 28.4dBa reduction (Third-Octave Spectrum LZeq in accordance with IEC 61260).
Key features:
Extends from 1.18m to 2.1m.
Circumference of 3.24m.
Cylindrical design largely eliminates standing waves.
Treated roof features 300mm channel for use with overhead mic stands.
Ships with accessory bar, bookstand and storage bag.
Shipping in February 2021, the Imperative Audio Portable Vocal Booth is priced at £999/US$1,349, €1,099 (all exclusive of tax).
More: www.imperativeaudio.com