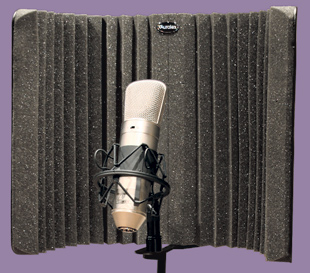 Auralex Acoustics has launched its MudGuard microphone isolator at the NAB show.
MudGuard is the newest member of the ISO Series family of products designed to help isolate monitors, amps, microphones and stands from hard surfaces and sound reflections.
'External noise bleed and overtones can turn a voiceover session into a sonic nightmare, which is why Auralex developed the MudGuard,' says Eric Smith, founder and president of Auralex Acoustics. 'It is easy to use, portable and engineered for maximum effectiveness. Studiofoam further prevents unwanted sound and other elements from leaking into a recording. It's a great example of our continual efforts to design quality sound protection for our customers.'
The Auralex MudGuard, ideal for voiceover booths, radio applications, ENG trucks and on-set ADR (automated dialog replacement), features the company's well-regarded Studiofoam sound-absorbing acoustical foam, which helps to reduce excessive room ambience and off-axis sound. It mounts easily to most microphone stands and clips and has an adjustable height. Included hardware allows the microphone to be moved closer to the MudGuard for a more controlled sound. More open sound can be achieved by moving the microphone away from the MudGuard.
More: www.auralex.com