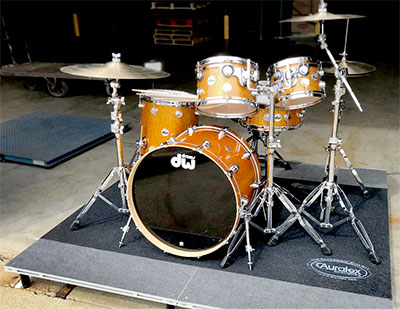 Auralex Acoustics has announced an updated version of the HoverMat, a portable acoustic barrier designed for use under drum kits, percussion set-ups and other sound producing instruments.
The HoverMat is a hi-tech alternative to the rugs that drummers have been using over the years. It decouples an area of the stage or floor, minimising resonance from the surface on which the instruments are resting. Percussionists, especially those playing cajons and other floor-standing instruments, will notice a great improvement of tone, clarity and reduced vibration with the stage surface.
Based on customer suggestions and consultation with numerous drummers and percussionists, the updated HoverMat combines Auralex's SheetBlok Sound Barrier with a non-slip durable fabric that is laminated together to produce an effective sound barrier that improves acoustical isolation and clarifies drum tone.
More: www.auralex.com