Portugese acoustic treatment specialist Artnovion has expanded its Pro Audio & Studio range with Orion and Antares panel absorbers.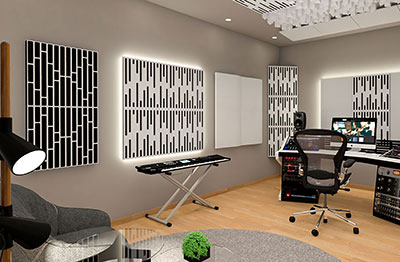 Orion, the company explains, is 'the culmination of extensive research into the optimisation of MLS sequences for calibrated acoustic absorptio'n. An array of Orion absorbers create areas with a distinct acoustic response, each calibrated to work at a certain frequency range – the panel's performance begins at 315Hz and offers effective, even absorption to 3150Hz.
Using Helmholtz-style absorption techniques boosts mid-low and mid range absorption, while the open areas of the panel are enough to guarantee high-frequency control. Designed for the studio world, where each surface is critical, the new Orion panels have been created to enable producers and engineers to maximise the sonic potential of their recording space.
The Antares absorber is the latest addition to studio designer Jan Morel's signature product line-up. The tapered slots of the panel create balanced mid-range absorption, while the panel's deceptively large absorption area guarantees high performance, high-frequency absorption.
Artnovion is distributed in the UK by Audio-Technica.