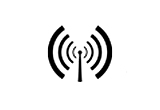 I absolutely love radio. The Buggles' wry dismissal aside, radio was never going to be a casualty of the home video recording 'star' of the late 1970s.
We could talk about how highstreet video rental subsequently seemed poised to bring down the curtain on cinema. Or how drum machines rattled the death knell of drummers. Or any colour you like being 'the new black'. But let's stay tuned to the radio…
Admittedly, the arrival of domestic video recording in 1975 with Betamax, 1976 with VHS and 1978 with V2000 (not to mention the earlier V-Cord or VX formats) made the radio star look dated and lacklustre. But that is to miss one of radio's greatest strengths – it is a fantastically powerful means of firing your visual imagination. That is why radio is particularly great for audio people – both to listen to and make.
It is also readily able to adapt to new challenges and opportunities.
One of its latest reinventions takes elements of punk DIY, flashmob spontaneity and social media to give a fresh face to making and delivering programmes. Using mobile recording and internet delivery, radio is following music in placing its creation in the hands of its fans.
With a mission statement that reads: 'making radio drama and comedy anywhere, anytime soon...', the thinking behind Guerilla Radio belongs to Nathan Naylor, an experienced hand in the creative side of radio. With a phonebook enviably full of industry talent, he recruited technical help from unlikely sources and announced his own take on contemporary programme making. Which is how I come to be working somewhere between a young DAW jockey fresh from an audio and sound design degree, and burning with enthusiasm (with the grin to demonstrate it) and London's prestigious Hackenbacker postproduction facility (with the Grammy nominations to prove it). All of us eager to try something completely different.
My own recording background is pretty much exclusively in music. So getting involved in a radio project has been a new adventure and a lot of fun. It has seen me hanging duvets on walls, dusting off a selection of mics and bolting preamps and compressors into gig bags, and recovering some of the lateral thinking that makes sound recording such a rewarding art.
The aim of the project lies somewhere between NYC's Improv Everywhere performance group and a drive-by shooting – hit-and-run programme making that will take many of the obstacles and all of the formality out of radio.
Going live at the end of the year, Guerilla Radio is presently making test recordings in impromptu settings – with some very pleasing results. And with a little more work, it will be able to set up where it pleases to bring a fresh take on the process of 'making radio'.
The scripts are coming from both established and undiscovered talent, the voices from angels and the finessing from masters. The results will be a proving ground both in their writing and production, and the ability of technology to give radio a great role in the new media era.
'It has to start sometime/What better place than here/What better time than now?' Rage against the Machine, I give you Guerilla Radio.