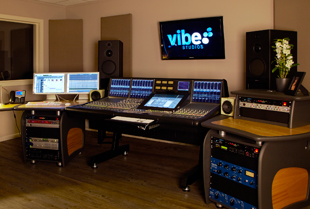 With demand driving its move from voiceover work into ADR and work for TV and film, Belgium's Vibe Productions has installed a 24-fader, 64 DSP channel Solid State Logic C300 HD digital console in Studio A.
'We are becoming the go-to studio in Europe for American and English clients looking to internationalise commercials and other productions,' says studio owner Tim Van Renterghem. 'These clients are interested in great sound and quick turnaround while staying within a set budget. If we had stayed with simple voiceover work, we would have continued with our collection of high-end mic pres. The reason I purchased the C300 was for all the areas I am going into for the future.
'We looked at other manufacturers including an Icon controller for our Pro Tools system and other digital consoles, but the C300 was much more flexible and it is expandable. This will help us to move forward into many different markets.'
Vibe Productions' work ranges from mixing commercials for television and radio to sound design, casting and voiceover recording. Each requires a different configuration for both the engineers and the type of project. 'We had to invest in a desk that was flexible enough to meet the varying channel counts, while delivering great sounding tracks and high-end recognition. These factors help to differentiate us in the market but beyond this, the console also needed to be capable of bringing us into mixing for film and short film projects to expand our business.'
Vibe Productions plands to expand its services further, as well as growing into a full sound for post studio, the intention is to move into sound for games, using the film disciplines as a spring board. Again, the C300 is a key factor.
More: www.solidstatelogic.com