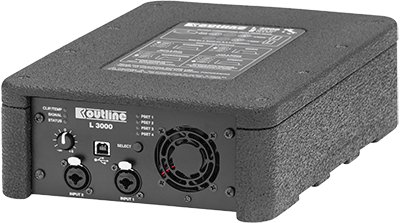 Outline's L3000 multi-purpose amplifier is designed principally for applications where it is not possible or practical to use 19-inch racks.
The L3000 is a freestanding, high-powered multi-mode power amplifier presented in the same and durable wood finish as Outline's touring loudspeakers. If rackmounting is required, two L3000s can be mounted using a dedicated Outline kit.
The L3000's class-D design includes two inputs and four outputs, able to operate in single channel mode (four channels; 750W/4Ω) and bridge mode (either two 1.5kW channes @ 8Ω, or a single 1.5kW channel @ 8Ω and two 750W channels at 4Ω). Onboard DSP provides a range of amplifier controls and a universal regulated switch-mode power supply allows the L3000 to operate on various input voltages and mains cycles globally.
More: http://outline.it