Wireless Systems
RFvenue CP Beam Antenna
RFvenue CP Beam Antenna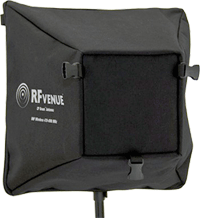 Specialising in remote antenne for production wireless application, RFvenue has released the CP Beam Antenna.
Optimised for long-distance applications in the 470MHz-698MHz UHF range, the CP Beam Antenna is a high-gain, foldable, circularly polarised design aimed at audiovisual integrators, location sound mixers, broadcast engineers and touring companies.
'The patent-pending CP Beam is a convenient, easy-to-use, full-size beam antenna for long-range applications that can be very quickly used when needed,' says RFvenue CEO, Chris Regan. 'Customers wanted a compact and durable high-gain antenna without the size, weight, and additional cost of hard plastic or metal designs. It's great that it folds up for storage, yet is quickly deployable. There's no need for a dedicated flight case to store the CP Beam – it fits in a two RU rack drawer when folded.'
'The new RFvenue antennas all incorporate ergonomic and human factors that have been ignored in the past,' adds Robert J Crowley, inventor of Crowley and Tripp microphone technology, and chief of the company, Soundwave Research, that operates Rfvenue. 'RFvenue's products make wireless systems easier to use, more dependable, and eliminate guesswork in an increasingly complex RF spectrum. The CP Beam is a high-gain, broad bandwidth, directional antenna that is excellent for long-range wireless mics or IEMs, as well as point-to-point RF links.'
The CP Beam antenna has a MSRP of US$499, and is shipping worldwide through distributors, dealers, and a nationwide manufacturer's rep force in the US.
More: www.rfvenue.com