Metering/Test & Measurement
TC Electronic TouchMonitor TM7/TM9
TC Electronic TouchMonitor TM7/TM9
New from TC Electronic, the TC TouchMonitor TM7 and TM9 are stereo and multichannel loudness and true-peak level meters, designed for broadcast ingest and transmission, audio postproduction, film sound and live production.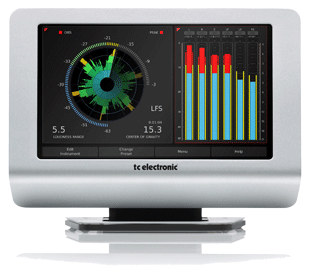 Comply with given international broadcasting standards (inclusing American, European and Japanese), the numbers representing loudness are displayed instantly on a large colour touchscreen.
The meters come in six basic configurations based on connectivity, features and physical size –7-inch and 9-inch touchscreens, stereo or multichannel operation and with an option on TC's Radar Meter. Various I/O options are also offered. As standard, the TM9 comes with 16 digital balanced I/O, while the TM7 features eight analogue plus eight digital ports. An additional number of I/O configurations on either balanced or unbalanced connectors (Sub-D or BNC) are available, and an SDI 3G I/O card will be released for the TM9 in 2011.

Further, the TM7 and TM9 can be expanded/upgraded by installing optional software instruments (meter types) such as Real Time Analyzer or upgrade from Stereo Mode to Multichannel Mode.
The meters also provide a number of flexible features intended to make the lives of professional broadcasters easier, as well as help achieving good end results. The colour screen can be configured to meet specific needs – the Radar Meter could be placed on one side of the screen, with the remaining space used for a Phase Meter or Surround Sound Analyzer, but it is also be possible to monitor several Radar Meters simultaneously by resizing them to fit the screen.
More: www.tcgroup.tc