Metering/Test & Measurement
RTW TouchMonitor TM3
RTW TouchMonitor TM3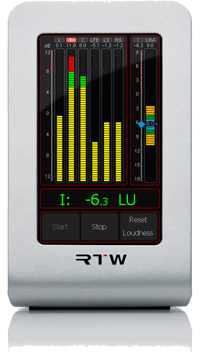 Joining the TM9 and TM7 in the RTW's TouchMonitor series, the compact TouchMonitor TM3 is inteded for the small studio, OB van or control room.
The TM3 has a sharp 4.3-inch touchscreen and has been designed to provide all the information required for accurate sound level and loudness management, while the TM9 and TM7 have larger displays and a greater choice of measurement and I/O options.
Available in two or six channel versions for stereo or 5.1 surround applications, the TM3 provides PPM metering with analogue and digital scaling, Peak Hold and Zoom modes, phase correlation, an AES3 status monitor plus the LRA Loudness Range display. The Loudness/SPL measurements are compliant with EBU R128, ITU BS.1771, ATSC A/85 and ARIB.
The screen layout is user configurable and stored as presets for whatever measurement tools are needed for the task in hand. Presets are selected by a finger swipe across the touchscreen.
The official launch of the TouchMonitor TM3 was hosted by UK distributor Aspen Media at the 2012 BVE show.
More: www.rtw.de