Italian distributor Leading Technologies and sister company Sound Light & Technologies (SL&T) recently participated in recording an ambitious production of Rossini's La Cenerentola with RAI Radio, using a combination of Soundcraft and Studer digital mixing platforms.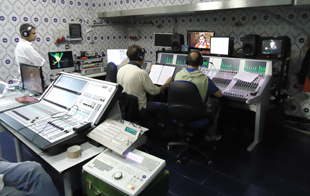 The production involved around 250 members of cast and technical crew, and was mixed on a combination of three Studer Vista 9 and Vista 5 consoles, with three further Soundcraft V1 desks providing backup. These were used in four different scene locations – while the actors, singers and choir were located in Parco della Mandria in Venaria, Palazzina di Caccia and Palazzo Reale in Torino, the orchestra was recorded remotely at the Auditorium RAI in Torino. All locations were linked by fibre or radio bridge to give the actors the sense of performing in real time with the orchestra, using a Studer stagebox in each venue.
On duty were two 52-fader Vista 9 consoles, a 42-fader Vista 9 and a 42-fader Vista 5 located in the OB truck, which were used for mixing the orchestra and actors' mics, as well as for 5.1 surround postproduction, while the three Soundcraft Vi1 consoles were used for pre-mix of secondary inputs and backup.
The orchestra required 68 microphone channels on the desks with a further 12 channels for the choir (who were based in the same location as the actors).
A multitrack recorder received the audio via a Madi port on the Vista 9.
RAI Radio provided technical staff while SL&T provided personnel support and other ancillary equipment from the Harman Professional portfolio, such as JBL Eon loudspeakers and AKG microphones and headphones. AKG C414 XLII and various K141 and K702 microphones were used for mixing and monitoring by the musicians and engineers.
The recording marked the latest success in a long relationship between Italy's national broadcaster and SL&T/Leading Technologies.
The event itself was transmitted live around the world over two days in early June and the DVD, produced by Rada Film, will be available soon for marketing and promotion. RAI Radio has the technical production rights for La Cenerentola, with Antonio Ciano taking overall audio responsibility, Fiervisaggio Giorgetti, technical project and installation supervisor, Marco Diodato and Domenico Narducci as Vista 9 engineers and Dario Chiapino as Vista 5 engineer.
Rada Film has the production rights under the authorisation of Andrea Andermann with the direction of Carlo Verdone. Providing the technical interface between Rada Film and RAI was Alessandro Bernardi.