Located in Baltimore MD's historic Highlandtown neighbourhood, New Light Church: Ministry of St. Luke 4:18-19 place s ahigh priority on its youth ministry, particularly through music.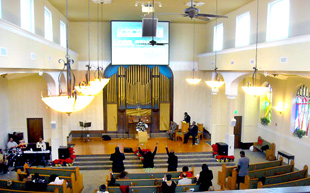 Formerly the New Light Baptist Church, the new facility was completed in mid-2009 with its technical installation subsequently handled by A/V system design/integrator, Connectivity Group. The resulting audio system makes extensive use of Tannoy loudspeakers to enable the church to pursue its aims in both speech and song.
The project, explains Connectivity Group's founder/owner John Saunders, who designed the system, was part of an overall rebuild made necessary by catastrophic damage from a recent fire. As a result, the project involved a complete replacement of New Light's A/V systems that, in keeping with New Light's emphasis on dynamic, multi-faceted worship, had to speak well to the reinforcement of speech and program music, a gospel choir and a full electric praise band.
'There really wasn't much in there before,' he says, 'and I think they were looking at getting a new system before the fire.' But while the church knew they wanted high quality audio reinforcement, they weren't entirely certain what type of system to install to meet their requirements and budget.
Ultimately, Saunders specified one Tannoy VQ 100, one V8 and two V6s for the main system, as well as various third party products to provide onstage monitoring.
Originally Saunders intended to use a VQ 60, but after Ease modelling the room revealed that the coverage offered by a single VQ 100 – hung as a centre fill, 20-ft high, to cover the main area of the room – was preferable. To complete the coverage, a single V8 was hung from the ceiling in the rear centre of the sanctuary to cover a small, approximately 12-ft deep balcony at the back of the room. The two V6s were mounted on columns located at either corner of the stage roughly 6-ft high, and angled slightly to the left and right to provide front/side fill.
The challenges that informed Saunders' choices were substantial. While not a huge space, he explains – estimating the capacity of the room at between two and three hundred people – it was a highly reverberant one. 'It was all hard surfaces; with wooden pews, stained glass windows down the side and the whole back wall has a huge stained glass window. With the VQ, because of its pattern control, I could minimize what I was throwing at the back wall, and it's a clean-looking box.'
While the room didn't require a complex system, aesthetics were of key importance, and the VQ 100 allowed Saunders to cover the majority of the room with a single loudspeaker. The Dual Concentric design of the V series played into his decision as well, Saunders notes, as did his familiarity with Tannoy. 'I've worked with the Tannoy's before,' he says. 'I like the design, how they install and the look of them. They've also been a pretty responsive company and I like the rep, Charles Cassell, of Audio Associates.'
The lack of budget for acoustic treatments also spoke to both Saunders choice of Tannoy and his overall design. 'That was another reason I chose the VQ 100 and those smaller fill speakers. Rather than having one big cluster cover the whole room, I was able to cover the main seating area, and cover it so tight, that I could put in the V6s and V8 to fill in where the main speaker didn't quite hit.'
'I like the wide coverage of the VQ,' he continues, 'and the fact that it's a three-way box so I can get clarity of speech. But it also provides a little bit of punch, with more low end that I typically can get from a two-way box.'
More: www.tannoy.com