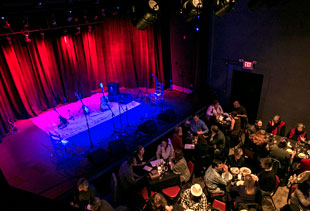 The Isis Restaurant and Music Hall in Asheville (North Carolina) brings more than food and drink to the table, as it also has a concert venue. Located in a former cinema that originally opened in December 1937, the venue books national as well as regional performers and can accommodate more than 350 people.
Designed and installed by Tom Brockenbrough Jr – principal of local company, Summit Communications Systems – the sound system is based around a Midas Pro2c digital mixing console (for both front of house and monitor duties) and an FOH loudspeakersystem comprising two EAW QX564 three-way loudspeakers driven by two Powersoft Duecanali 5204 DSP+AESOP and one Duecanali 3904 DSP+AESOP anplifiers in the music hall, as well as a pair of EAW SB1002 subwoofers positioned below the stage powered by a Powersoft K8 DSP+AESOP.
A Powersoft M28Q HDSP+ETH supplies power to a balcony fill system of four EAW MK8126 two-way loudspeakers. Audio and control data runs between the console and the Powersoft amplifiers over Ethernet.
An additional three Powersoft Duecanali 3904 DSP+AESOP amplifiers are dedicated to the monitor system. Six EAW MicroWedge 12 floor monitors and a single 15-inch EAW MicroWedge Sub cover the stage, which measures 26-ft wide by 17-ft deep.
The hall has also been comprehensively acoustically treated.
It was Powersoft Executive VP Ken Blecher who introduced Brockenbrough to the amplifiers on a visit to Asheville during restoration and construction of the venue. 'When Ken took the time to visit us during our selection process, we were sold,' he says. 'He cracked the lid of a K Series and it was obvious that they had changed the game. I'd never seen a design like this before. Now with the amplifiers in place, I am happy to say that Ken and Powersoft delivered in every way. These are the most linear and transparent amplifiers I've ever had on a PA system, hands down.
'I was pretty set on using EAW's DSP, but as Ken demonstrated, I was able to load the EAW factory presets into PowerSoft's DSP and was presented with a GUI also unlike anything I've ever seen,' he adds. 'The process of building up virtual racks and applying EQ groups across multiple amplifiers is the most intuitive and user-friendly interface that you could ask for. I only wish that I had access to this technology back when I was operating and tuning much larger systems. With an extremely savvy client, it was not only important that Summit provide world class products, but also the services to support this, and we are very grateful to Ken and his team at Powersoft for being right there with us every step of the way.'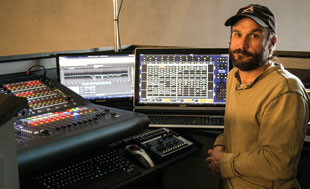 Brockenbrough, who will oversee the system at the music hall for the initial schedule of performances, is using Powersoft's Armonía Pro Audio Suite PC software to control the eight Powersoft amplifiers from the front of house position. 'At front of house I've got two virtual racks and various EQ groups built in the Armonía software: a house rack with the amps for tops, subs and fills, and a monitor rack with those three amps,' he says.
'I am really taking my time with tuning the system and making sure that my client and our community get the absolute very best that we offer. As we go through some different genres and styles of music, I am thoughtfully working on a place for the rig that best complements everything and everyone. But, it is also nice to know that we can very easily apply various presets if ultimately we need be able to change gears depending on the performance requirements.'
Brockenbrough has configured software presets for six two-way wedge mixes or four two-way wedge mixes, plus a three-way mix, integrating the MicroWedge Sub. In addition, Brockenbrough has enabled Powersoft's Active Damping Control in the software. 'Where I was initially worried that the room would need more low-end, after applying damping control I've actually had to bring the subs back down!' he reports. 'They just sit there and purr at you, no matter what you do. I have never heard anything like this. It's awesome.'
Despite the fact that Asheville is only the eleventh largest city in the state of North Carolina, Brockenbrough believes that the production value at Isis is on par with or exceeds what is found in any major metropolitan area: 'With these products and the excellent support we receive from our partners like Powersoft and EAW, I'm proud to say that we've created a landmark. This system feels and sounds better than anything I've ever come across in a 350- to 400-capacity room, and we are just getting started. Awesome just begins to describe it.'
More: http://summitcomsystems.com
More: www.powersoft-audio.com
More: www.eaw.com
More: www.midasconsoles.com