On the Las Vegas Strip, the Imperial Palace has long attracted tourists with the world's largest and finest classic car showroom, a wealth of entertainment options, as well as a prime location convention business and access to the Las Vegas monorail.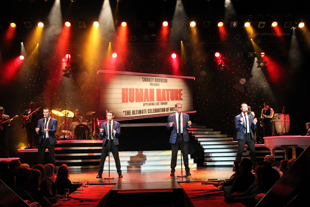 The hotel's Human Nature Theater features Australia's Human Nature – a Motown tribute showcasing the harmonies of Toby Allen, Phil Burton, Andrew Tierney and Michael Tierney. To retain its technical appeal, the theatre recently received a substantial upgrade of its sound reinforcement system.
After evaluating a number of sound reinforcement systems, Imperial Palace Technical Director J Eric D'Richards selected a DAS Audio system, comprised of Aero 8 powered two-way line array elements, Aero 12A powered two-way, mid-high line array modules and LX-218A powered subwoofers – all managed by a DAS Audio DSP-4080 stereo/mono loudspeaker processor.
'We evaluated a number of sound systems from several manufacturers and the DAS system offered the ideal blend of system performance and value,' D'Richards says, 'The Aero 2 system's compact form factor and low-profile from the house perspective was just right, as it didn't interfere with the audience's line of sight to the stage. Equally notable, the sound quality of the equipment is very impressive. The system exhibits excellent speech intelligibility and music reproduction capabilities as well as even dispersion throughout the room – all of which were prominent factors in the equipment's deployment.'
The Human Nature Theater uses two main loudspeaker clusters flown over the left and right front edges of the stage – each comprising six Aero 12A loudspeakers with five LX-218A subwoofers low-frequency support. Two LX218As are stacked on the left and right sides of the stage, with the fifth enclosure inside a cubicle underneath the front centre of the stage. Two Aero 8A enclosures are placed of the LX-218A stacks at the stage sides for in-fill, and are angled in toward the front/centre seating immediately in front of the stage.
'I really appreciate the fact that the entire system is self-powered,' says D'Richards. 'We have limited space in this room, so the fact that we didn't have to concern ourselves with housing a separate equipment rack just for power amplifiers was a big plus. The system's self-powered design also streamlined system cabling considerably.
'We have three shows each day here: Name That Tune Live in the afternoon, Human Nature in the evening, and Frank Marino's Divas Las Vegas as our late night entertainment,' he adds. 'Given the diversity of our entertainment, we needed a system that was versatile and could handle everything from A-Cappella vocals and heavy dance oriented music to the clear speech intelligibility necessary for a game show. Our new DAS system delivers on all fronts.
'We do 72 shows per month in this room, so sound quality and reliability is vitally important. In the seven plus months we've had the equipment, I've encountered no issues whatsoever. In terms of performance, our DAS system has been terrific and, as other sound reinforcement requirements evolve, DAS Audio will be at the top of our list.'
More: www.dasaudio.com