Constructed from eight recycled shipping containers on the outdoor terrace of the Queen Elizabeth Hall at London's Southbank Centre is the Wahaca Southbank Experiment.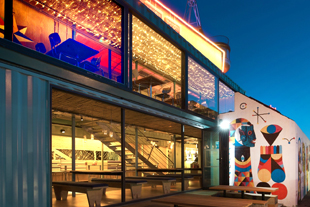 Renowned architects Softroom developed the idea for using the shipping containers to remind visitors of the working history of the Southbank area of the river and also because their limited height allowed them to fit two floors in to the height of a single-storey space.
Handled by Marquee Installations, the audio system uses four zones covering ground and first floors, walkways and outside areas. To provide simple but flexible control and power, Marquee chose the Cloud Electronics 46/50 four-zone integrated mixer/amplifier with its optional 100V line module. APart Mask4T and Mask6T speakers are used throughout.
'We chose the Mask loudspeakers for their discreet styling, audio quality and price, which fitted a realistic budget for the temporary nature of the project', explained Stacey Tough of Marquee Installations. 'The Mask loudspeakers are also suitable for indoor and outdoor use, enabling us to maintain consistent quality throughout the venue'. A media player provides the themed music playback for the system.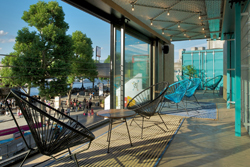 Contrasting with the heavy concrete backdrop of the Queen Elizabeth Hall, each container is painted in one of four vibrant colours ranging from deep turquoise to straw yellow, providing a colourful contrast to the restaurant's grey surroundings. One of the top floor containers has been cantilevered out over the restaurants ramped entrance to create a canopy above the ground floor. On the upper level, this cantilevering enhances views from the upstairs bar out over the river.
Inside the Wahaca Southbank Mexican restaurant, the front and back containers are connected via a glazed link, which houses the stairway connecting the two floors and floods the space with natural light. Each of the containers has its own character with a mix of bespoke, new and reclaimed furniture along with distinct lighting designs. Outside, there is a wide variety of areas in which to sit, from the booth seats, built in to the raised timber deck around the building, to the first floor terrace bar, to the street bar overlooking Queen's Walk.
Mexican artists have been commissioned to create a changing series of murals for the restaurant, which will decorate the walls and structures that surround it.
With space for 130 diners, the Wahaca Southbank Experiment will remain open for at least 18 months, before moving to a new location.
More: www.marqueeav.com
More: www.wahaca.com