Milwaukee's Greendale High School recently capped off renovations to its Reiman Family Arts Wing with the installation of an L-Acoustics Kiva line source system.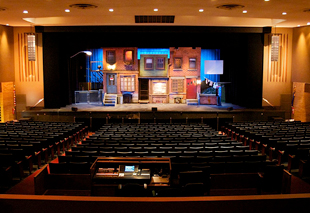 Designed and installed by Clearwing Productions, the new loudspeaker and amplifier package is now delivering high-fidelity sound reinforcement for the school's 876-seat Henry Ross Auditorium. Working closely with GHS Theatre Director Eric Christiansen, Band Director Tom Reifenberg and District Park and Recreation Deputy Director Jackie Schweitzer, Clearwing's Kerry Miller and Bryan Baumgardner carefully evaluated Greendale's needs and coverage requirements for the space.
Aside from being used by all schools in the district for concerts, plays and other performances, the auditorium serves as home to Greendale Community Theatre (GCT), which most recently used the venue for its production of Avenue Q.
The district's commitment to high quality productions for the local community required a creative approach in the design of a stereo system to replace the mono cluster previously located in the space. To ensure that every seat in the auditorium would receive the same stellar sound, Miller and Baumgardner, along with Clearwing's Jeff Schauer, first modelled the Kiva system in SoundVision.
The new system features LR arrays each comprising six Kiva enclosures flown beneath two Kilo low-frequency systems. Positioned on the floor beneath each array is a single L-Acoustics SB18i subwoofer, while a total of six coaxial 8XTi enclosures provide front fill and delay for the house. All systems are powered by a combination of L-Acoustics LA8 and LA4 amplified controllers.
'Dozens of audience members attending our January production of Avenue Q commented on the unbelievable sound quality of the new speakers,' says Tom Reifenberg, who serves as both as GCT music director and Greendale High School director of bands. 'Hearing the side-by-side difference between our old and the new system was absolutely incredible. We are very glad with our decision to install the L-Acoustics Kiva system here at Greendale High School.'
More: www.greendaletheatre.org
More: www.clearwing.com
More: www.l-acoustics.com