dBTechnologies speakers were chosen by rental company Angel Dominguez Sonido (AD Sonido) for the Davis Cup tennis final at the Estadio Olímpico in Seville. Comprising a surprisingly small number of DVA T4, S20 and Opera Digital 410D boxes for the space, the sound system ably served the event's 25,000 spectators.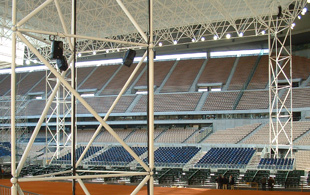 Four clusters of six DVA T4 were hung from the temporary roof (installed on one side of the stadium to cover the clay court for the championship) at a height of 27m serving the upper seating. Sixteen Opera 410D modules, each installed at a height of 10m, addressed those nearer the action, and a further four Opera 410D speakers ensured that the press stand also had ample coverage. Two DVA S20 subwoofers could be found at the bottom of the towers, covering the main terraces.
'It was a tough job at the set up for AD Sonido, as there was lots going on to prepare the stadium, and both the Argentinian and Spanish tennis teams were training as well,' dBTechnologies Area Sales Manager Juan Miguel Martinez explains 'The installation company has been working with dBTechnologies for over four years now, so they know how good the gear sounds, and more importantly how easy it is to install, so despite the obstacles, dBTechnologies made for an ideal choice.'
AD Sonido has handled everything from conventions and fairs to many live orchestras and fashion events in 20 years of lighting and sound installation: 'We know what we're getting with dBTechnologies: great performance and reliability. When I went to the top terraces to listen to the DVA T4 boxes, they sounded clear and very powerful,' says AD Sonido owner and Director, Angel Dominguez. 'We have used dBTechnologies products on many jobs in the last four years. The boxes didn't let us down in la Cartuja and we will definitely continue to specify them in the future.'
The Opera Digital 410D is a 400W active speaker that delivers high sound pressure levels from a compact cabinet. Both the Opera 410D and the DVA T4 guarantee exceptional speech clarity as well, so the 25,000 strong audience in the stadium could experience every shot of the 4 hour 8 minute 'war' between the two determined finalists.
Rafael Nadal beat Argentina's Juan Martin del Potro in the thrilling match, securing the Davis Cup for Spain, which was watched in 40 countries, with 4m viewers in Spain alone.
More: www.dbtechnologies.com