Recent expansion of the facilities at the Ulsan Galilee Church in South Korea have seen the opening of a new building housing an 800-capacity main worship area, seminar rooms, library and café, for church members and the local community. Supplied by local distributor Sama ProSound and installed by Daiyoung Sound, the church requested a separate monitor system for singers and band members, so Daiyoung Sound Director Joon-ho Choi selected Allen & Heath's GLD digital mixing system, ME-1 personal monitor mixer and Qu-16 compact digital mixer for the task.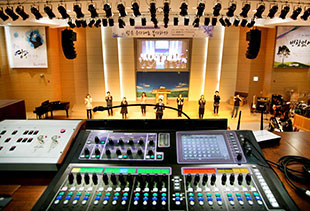 'The combination of GLD and ME was the most attractive option,' he confirms. 'The GLD's I/O remote audio racks mean the system is scalable to manage all requirements. The mixer also has great audio quality, an intuitive interface, and a wonderful custom layout design. ME-1 has the most monitor channels in the personal monitor market, and the group option, ambient mic, dedicated monitor output port, which means an option card is not needed, are the reasons why I chose the system for the church, whilst also saving budget.'
It took a year to complete the project, five months of which were dedicated to installing the broadcast, audio and cabling. At first, the church had doubts about installing a digital system since it had not used one before and does has few experienced audio engineers on staff, but the GLD Remote iPad app and GLD Editor control software, exceeded expectations.
The system is set up to enable control at FOH position and in the control room at the same time. The GLD-80 mixer is installed at FOH with the AR audio racks at the side of the stage connected via single Cat5 cable, reducing the wiring budget. 'The musicians were very happy with the monitor system, especially the ME-1 personal mixers, which they say deliver excellent audibility and allow them to focus on their playing,' says Mr Choi.
A Qu-16 compact digital mixer is installed in the control room to manage all recording, playback and broadcasting. It was selected because of its motorised faders, scene recall, and it has the most I/O in its price range. 'Qu-16 has both a Touchscreen and motorised faders, which most other competitive mixers don't have. It was the main reason that the church accepted it. Of course, USB recording functionality and high audio quality were very attractive points as well,' he adds.