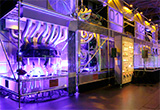 Created by the producers of the BBC series (and arena show) Walking With Dinosaurs, Dinosaurs In The Wild is a 'live action experience' using A/V and animatronic technologies to create a walk-through of the Late Cretaceous period.
There are three elements to this mix of theatre, theme park and the scientific research – the infrastructure and set design; technical sound, lighting and A/V content, and live actors who inhabit the set and guide the visiting time travellers.
Sound has been entrusted to Remarkable Projects, a new partnership between West End theatre designer, Bobby Aitken and Scott Willsallen, who has been responsible for many major Olympic Games and other landmark Opening and Closing Ceremonies. The company was also involved in the Pink Floyd Exhibition: Their Mortal Remains.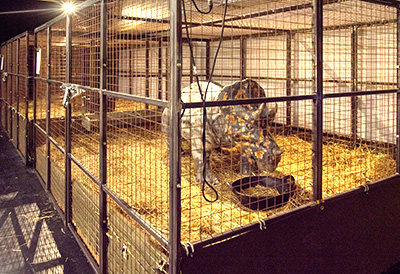 The idea of forming a partnership fomented after Aitken and Willsallen had worked together on the London 2012 Olympic Games Ceremonies, where their respective skill-sets complemented each other perfectly.
While Willsallen maintains his Sydney-based Auditoria technology consultancy, Remarkable Projects is a sound design consultancy for events and exhibitions.
'I was asked by a long-term client and friend to get involved [in DITW] as the sound was, in his words, "going to be really tricky, and you're great at tricky". As work began it became clear that not only was the sound going to be tricky, but the requirements for the control system were also very complex.'
Working as part of the design team to understand the creative intent of the experience, their scope was expanded to include sound design content creation to make sounds for all animatronics, video animations and background atmospheric sounds.
'Shortly into the project, it became clear that the control system would be a significant beast requiring complex integration into the audio replay and the triggering and synchronisation of lighting and video content,' Willsallen says. Their scope was further expanded to design and implement the control system, and production requested that Remarkable Projects' contract be further expanded into a turnkey arrangement. They worked with Autograph as their subcontractor who supplied and installed the systems to their specifications.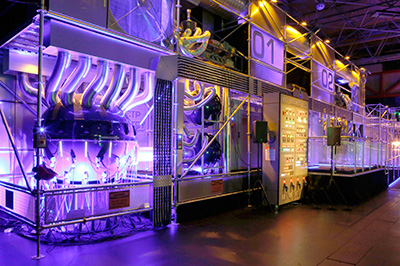 The overall theme was to make this as real and believable as possible, with three main considerations. The audience were taken back in time to a scientific facility called TimeBase 67, built to study dinosaurs. 'The attention to detail in the designs and implementation from [set designers] FRD was incredible. Our job was to give sound to everything that should have sound to support the reality and believability, for example, the time machine itself, elevators, roller shutters, A/C ducts, fridges, door opening sounds, door closing sounds, and so many other items,' Willsallen explains.
Second, there are two sections of the experience where video animations are the focus, a four-minute animation and an eight-minute animation in a 3D arrangement of four displays. Remarkable Projects' job was to create all sound for these animation in a 3D environment, again to make them as believable as possible. Finally, they had to protect the audience from sound leakage from the other parts of the experience. 'We used a crude version of noise-masking to not only reinforce the believability with atmospheric sounds, but also increase the background noise floor to help with some masking.' Thus sound spill was entirely eliminated.
While the Audac loudspeakers were chosen on best quality for price, Willsallen set the bar high when it came to amplifier choice: 'When I started considering the options I was searching for the impossible. Key factors were reliability, onboard DSP, remote control and monitoring over Ethernet, Dante, low impedance and 100V operation switchable per channel, around 200-to-400W/channel, line monitoring and low-cost per channel given our requirement for more than 140 channels.
'I considered every amplifier brand that I knew to be reliable,' he continues. 'I started looking at Powersoft's Ottocanali range which offers great value per channel, before learning of the soon-to-be-released Quattrocanali series by a colleague from Australian distributor, PAVT. The 1204 DSP+D was perfect in every regard and in a four-channel unit, divided between the audio node racks with fewer unused channels.'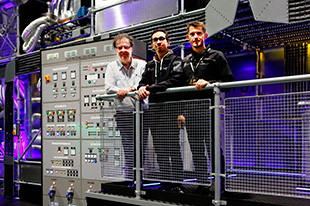 In fact more than 200 Audac speakers are powered by 35 Quattrocanali 1204 DSP+D amplifiers. 'The time travel vehicles each have 24 discrete channels which is a very convincing and believable 3D audio experience. The Lookout has over 50 channels distributed around the room in a hemispherical or dome shaped room. This is also very believable, especially when you can see the visitors being subtly guided around the room by the cues in the sound content.'
The equipment is distributed between three main, and one smaller amplifier racks or audio network nodes. All loudspeaker EQ was created and stored in the amplifiers. 'During preproduction, we measured each Audac product and created EQ and crossover settings for each product to build our own library to speed up the tuning onsite.' Powersoft's proprietary Armonía software was used for all remote monitoring.
Remarkable Projects' goal to deliver an audio experience that perfectly supported the creative intent and allowed the audience to suspend their disbelief, was consummately achieved, as was their desire to offer trouble-free operation. 'Every element of the experience is deliberate, from the branded uniforms of the cast, to the set dressing to the sound of snoring and farting baby dinosaurs, and the anatomical accuracy undertaken in every element of presenting dinosaurs,' Willsallen confirms.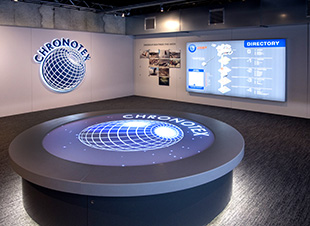 'While we can't study dinosaurs roaming around to know if we are correct in our representation, we can be confident that what the audience see and hear at Dinosaurs in the Wild is as accurate as the science understands.
'The value for money of the Audac/Powersoft combination gained us a higher output channel count, and that directly impacts believability. Any other combination would have meant reducing the output count, which would have resulted in a less convincing experience.
'Our clients are extremely happy, 18 months ago sound was the greatest risk on the project, now it has become the immersive glue that, combined with the work of FRD, maintains the believability. Overall, it's a brilliant experience and the reviews on TripAdvisor seem to agree.'
Creative Director Tim Haines agrees: 'The result has worked wonderfully; we have an experiential space like nothing anyone has seen or heard before.'
After the show closed at Birmingham's NEC, it stopped at Eventcity in Manchester for three months and will next hit London's Greenwich Peninsula from February until the end of July 2018.
See also: