Recording-Mixing
Midas VeniceF-16R
Midas VeniceF-16R
Midas has launched the VeniceF-16R, a 16-channel rackmount variant of its 'digi-log' ultra-compact mixing console, the VeniceF.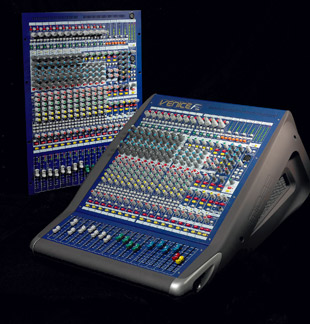 Designed by Alex Cooper, the VeniceF-16R offers a FireWire multichannel digital audio interface and claims 'the full functionality and sound quality' of the Midas XL3 EQ and filter section, Midas mic preamplifiers. It uses 100mm faders, increases the channel and input count and includes a dual 7x2 matrix and reorganised master section layout.
The VeniceF-16R's 16x16 FireWire capability adds 16 channels of multitrack recording and playback using any suitable FireWire-equipped computer, without the need for additional interfaces. This also offers the possibility of virtual soundchecking, and allows third-party plug-ins to be run as channel inserts and third-party effects routed via aux sends and returns. Inputs, groups, auxes, matrixes and masters can be routed to the FireWire interface.
VeniceF-16R is presented in a rugged, reassuringly weighty new frame design and livery reminiscent of the Heritage Series.
'We've enjoyed huge success with VeniceF since its launch at Plasa last year, and we fully expect the VeniceF-16R to reach out to an even greater market,' say Midas/Klark Teknik Brand Development Manager, Richard Ferriday. 'The rackmount format enables enhanced portability, making the VeniceF-16R the perfect solution for applications as diverse as combining multiple consoles at festivals, to folk duos playing pub gigs, to Friday night Karaoke sessions.'
The desk comes bundled with Propellerhead recording and processing trial software, which includes a 60-day trial version of Propellerhead's Record software (due to be superceded by Reason in the near future) and a low latency Midas ASIO driver for PC and Mac. Record offers both multitrack record/edit/replay software and signal processing modules, including dynamics and reverbs which can be inserted into the VeniceF signal paths.
More: www.midasconsoles.com