Intercoms & Conferencing
Audio-Technica ATCS-60 IR Conference System
Audio-Technica ATCS-60 IR Conference System
Audio-Technica has updated the ATCS-60 IR Conference System from its contractor Engineered Sound range of meeting/conference room systems.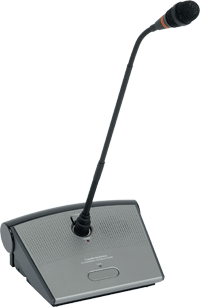 The ATCS-60 is a self-contained wireless distributed audio system using infrared communications for corporate, government and educational applications. The upgrades include a voting module (model ATCS-V60) and updated software (ATCS-C60MAG-REG).
The ATCS-V60 is a modular voting unit with five-button configuration that offers versatile voting options. In addition to Yes/No and Yes/No/Abstain votes, the unit can be programmed to allow up to five options. Up to 150 voters can be handled using ATCS-V60 modules. The ATCS-60MAG-REG software has been enhanced to support the ATCS-V60 voting module, video and audio recording, and the implementation of a simultaneous interpretation mode for a total of four languages.
The ATCS-60 IR Conference System offers the advantages of infrared communication and features wireless microphone units (ATCS-M60) with easy change of microphone locations and system configurations. The system also features functions such as simultaneous interpretation for one native language and up to three foreign languages; automatic camera tracking to follow the switching of microphones; optional minutes recording; along with other features that help improve conference efficiency.
The ATCS-60's infrared technology offers secure communication. Since the infrared signal stays within the room, a meeting cannot be picked up or intercepted elsewhere, which can often be an issue with conventional RF systems.
ATCS-60 system components:
ATCS-M60 Delegate Unit (base unit)
ATCS-60MIC Dedicated standard-length Gooseneck Microphone
ATCS-L60MIC Dedicated Microphone (Long)
ATCS-A60 IR Transmitter/Receiver
ATCS-C60 Master Control Unit
ATCS-D60 Distributor (splitter)
ATCS-B60 Battery Charger
ATCS-C60MAG-REG Software
ATCS-V60 Voting Module
DMQ-60 Monaural Earphone
LI-240 Lithium-ion Battery
The system operates in two modes, manual and automatic, allowing different meeting styles and levels of formality.
In manual mode, which works as a 'discussion system' (commonly used with a more formal approach to corporate meetings), each meeting member pushes a button to request to speak, and each request is recognised by the meeting's chairman. In manual mode, the system's ATCS-C60 Master Control Unit controls whether requests to speak are accepted in first-in-first-out or last-in-first-out order. This mode accepts up to 150 microphone units. In automatic mode, which accepts up to 50 microphone units, all channels run through a smart mixer, which turns each microphone on and off depending on whether or not that meeting member is speaking. The mixer can be set (via the ATCS-C60 Master Control Unit) so that from one to five people can talk simultaneously.
The ATCS-A60 IR Transmitter/Receiver Unit has an rectangular 120° coverage pattern. The ATCS-D60 Distributor acts as a splitter, expanding the Master Control Unit's four IR Transmitter/Receiver Unit connections so that up to 16 ATCS-A60 units can be placed on a room's ceiling space, depending on necessity presented by room size and shape.
The system's included ATCS-C60MAG-REG software allows users to monitor and control the system using a computer screen with a graphical interface patterned after the room layout. An advanced version of the software can record meetings for electronic minute-taking. The ATCS-M60 Microphone Units can run on battery power (LI240 Lithium ion battery, charged with ATCS-B60 Battery Charger) or via AC power with a standard adapter.
The ATCS-60 system is now available. As with all Audio-Technica Engineered Sound products, it comes standard with a five-year warranty.
More: www.audio-technica.com