German networked audio solutions specialist DirectOut Technologies has chosen GSL Professional as its new distribution partner for the Middle East.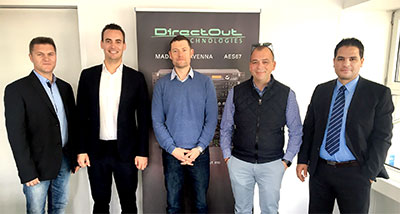 GSL Professional is official distributor for Harman Professional Audio, Video and Lighting, and will now also represent DirectOut in the UAE, Qatar, Oman, Jordan, Kuwait, Bahrain, Saudi Arabia and Iraq.
The GSL Professional product portfolio covers main pro audio markets, including Installed and live sound, and broadcast. Along with brands from the Harman portfolio, the company also handles Tascam TEAC in the UAE and GCC region, and supplies Klotz Cables. To introduce DirectOut solutions to its domestic markets, GSL Professional will host joint product presentations and seminars with DirectOut Business Development Manager Luca Giaroli in support.
'With a highly skilled and absolutely professional team, GSL Professional is the perfect partner to extend our Middle East distribution,' says DirectOut CEO, Jan Ehrlich. 'The company has comprehensive stock resources and its own dedicated service centre, as well as an impressive showroom and training facilities that host seminars and training roster throughout the year. GSL also works and cooperates very closely with its clients. It's very important for us to have such a solid and renowned partner supporting us in the region.'
'GSL Professional is intent on being a full-solutions provider and – by adding the DirectOut product range to our distribution line – we ensure that we have more to offer to our clientele,' says GSL Professional Business Development Manager for Broadcast, Ibrahim Shishani. 'DirectOut products are known to build bridges between different audio formats, which makes them important in many applications. DirectOut also provides solutions for vertical markets such as broadcast, studio, live and installed sound, which is why they are guaranteed a place in those markets. We are excited to partner with such a great team of people, and we look forward to achieving great success through our collaboration.'