With its Jack Lyons Theatre, recording studios and control rooms all to be demolished concurrently London's Royal Academy of Music had a problem. 'We were faced with having nowhere to record from, and all the analogue multiway cabling from other venues on the campus to the studio was about to become obsolete,' recalls Royal Academy of Music Head of Recording, David Gleeson.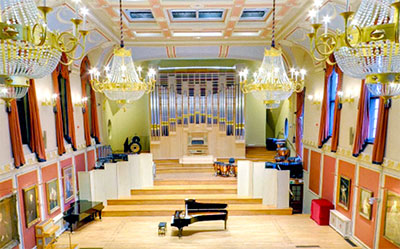 This was in 2014, when the work was preparatory to redevelopment work that included a new theatre, a recital hall and a recording studio above it, all due for completion in 2017. The work coincided with an upgrading of the building's network infrastructure and Gleeson and his team became attracted by the idea of using networked audio.
'RedNet presented itself,' Gleeson says. 'One of our vendors, Academia, first offered to loan us a RedNet 4. We tried it out, and it did what it said – despite our trepidation as old-school recording engineers about sending audio over a data network.'
The academy realised that Red Net and networked audio would allow it to establish an ad hoc control room in another building, and also open up the possibilities of a broad range of recording from a large number of locations around the campus –more than they had been able to access before.
'Today, we have RedNet 5s interlaced with a Pro Tools HDX system, RedNet PCie cards, a good number of RedNet 4s – each of the main performance areas has one or more racked locally,' Gleeson says. 'We've got a RedNet 1 in the server room acting as an output device for video recording and another as a floating Interlace for talkback.'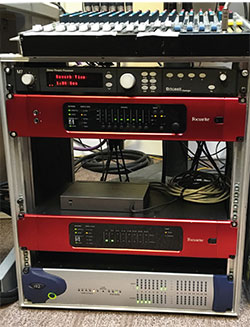 The Academy recording team is also using other Dante-compatible products such as Shure radio mics to add to the range of sources available on the network. There are permanent RedNet installations in the Duke's Hall and David Josefowitz Recital Hall, to which they can add extra units when required. This is particularly useful when the music requires a mixture of overhead and closer mics.
'I've been using Focusrite equipment for many years,' Gleeson says. 'I used to work at Skywalker Ranch back in the 1990s, when we had some ISA 110s, and I also remember the console from Ocean Way. So I've known the mic pres and the sound of them for a long time. I found the RedNet mic pres excellent for classical music – clean and transparent, and they work perfectly with our DPA microphones. They've upped the quality of what we're doing.
'Another consideration is that we used to have long runs of analogue cable, going through multiple patch points, and the capacitance was enough to take off some of the top end by the time it reached our mic preamps. The difference going from those to the RedNet preamps was like night and day – it's opened it up the sound, made it much fuller and brighter, a significant improvement if you compare today's recordings with those from 2014 and before.'
'We've got two public performance venues running at the moment. Those will be complemented by the new concert room and recital hall and the new theatre – we'll be going from two performance venues to five. We've also taken a long lease on a local church as a recording space and set up a temporary control room there. That's set to be updated and a new room added in the main building. There will be a lot of building going on over the next 12 months, and I see RedNet via Dante as being central to that operation. I couldn't see us being able to take on all that without centralising, which RedNet has enabled us to do.
'I would just say that RedNet are great devices to work with,' he concludes. 'The mic preamps are open and transparent and offer excellent fidelity for recording classical music, particularly if you have good mics to put in front of them. And the flexibility of what you can do with simply an Ethernet switch and a laptop has made it so much easier even than ten years ago, when we had Madi for location recording. It's a lot more accessible and a lot more affordable now. A lot of barriers have been taken down.'
Handling the Duke's Hall installation, Autograph Sound specified Tannoy VLS 15 column-array loudspeakers as the main LR system, supplemented by Tannoy VSX 10BP subwoofers and VX8s for balcony fills, all powered by Lab.gruppen E12 amplifiers. The Tannoy modules were all custom painted to provide a near-perfect colour match to the hall, and this in combination with their compact size and careful installation means that they are all but invisible. Additionally the VLS 15s were specified because their asymmetric coverage pattern enabled them to be mounted flush against the wall, further reducing their visible profile.
The key technology behind the system remote control is the Yamaha MTX control platform: 'The Yamaha MTX processor gives us a simple hands-off control system with a wall plate located back stage for adjusting levels,' says Autograph Project Designer, Chris Austin. 'The real operational attraction of the MTX system is its iOS control however, as it allows the engineer to sit anywhere within the audience and control the level of the podium or radio mics from an iPhone.'
More: www.focusrite.com