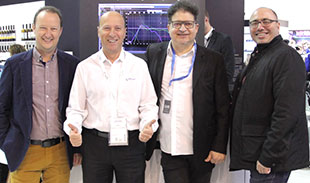 Sequoia Audio has been appointed by Powersoft as its new distributor in France.
'Powersoft has an incredible technology, which is reflected in a wide range of exciting products at very affordable prices,' says Didier Dal Fitto, founder of parent company DV2. 'This will open up new markets both for permanent installation and touring.'
'I believe the perception of Powersoft in France is still through our older platforms,' says Powersoft Pro Audio Business Unit Manager, Luca Giorgi. 'We recognise that quality is decision makers' top priority where audio is concerned, and so we had been looking for a distributor in France capable of selling our products independently from a specific package.
'Our two companies have always shared mutual respect, and so the decision to appoint them was an easy one. Sequoia's connections, coupled with the quality and performance of Powersoft products, will combine to open up new markets and reposition the brand in France,' Giorgi adds.
Sequoia Audio has a strong sales force and will mount an aggressive programme of roadshows supporting Powersoft, with a training seminar already in the pipeline.
'Now that the brand is supported by an audio specialist distributor, our goal over the next 12 months is to put Powersoft among the top amplifiers manufacturers in France, and enhance their presence in top tier rental companies,' says Dal Fitto.