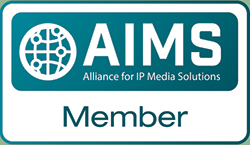 Solid State Logic has become a member of AIMS, the Alliance for IP Media Solutions, alongside its ongoing membership of standards coalitions including the Media Network Alliance (MNA) and Audio Engineering Society (AES). The company is also growing its R&D team to support the ongoing development of its System T.
AIMS is a non-profit trade alliance that promotes the open standards that broadcast and media companies use to move from legacy SDI systems to a virtualised, IP-based operation. SSL's membership makes it an active participant in discussions on standards in IP workflow and in interoperability testing.
'The big advantage of broadcast workflows based around networks and off-the-shelf hardware is that the infrastructure is agnostic to the standards and technology that are using it,' says SSL Product Manager for Broadcast Products, Tom Knowles. 'Different media transports and control protocols can live alongside each other and interact with each other. Future technologies and standards can be added to the infrastructure seamlessly allowing staged future migrations.
'For example, System T's audio I/O and routing is based around Dante – a complete AoIP networking solution that has easily integrated AES67 compatibility. The standard IT infrastructure and nature of System T's software platform means that SSL can adapt to and incorporate whatever the future brings, as it happens.'
SSL's R&D team is almost entirely based at the company's Oxfordshire HQ and is expanding, with more vacancies open now. Comprising nearly 50 software and hardware engineers, as well as a dedicated software test group, Chief Technology Officer Dr Enrique Perez believes it's one of the strongest R&D teams in the industry.
'We employ the best engineers from around the world to make sure our digital and analogue products incorporate the most powerful, versatile, and reliable technologies available,' he says. 'We have even developed self-testing systems that do code-level and functional tests every night,' he explains. 'The software team can then address those the next day – bringing rapid development that doesn't compromise quality.'
Perez lead the development of the SSL Tempest processing platform and the Optimal Core Processing (OCP) for real-time CPU-based mixing and audio processing on industrial multi-core hardware.
'We are dedicated to the long-term development of the Tempest platform,' Perez adds. 'And we take great care to make sure our customers can go on-air with full confidence in the whole System T environment.'