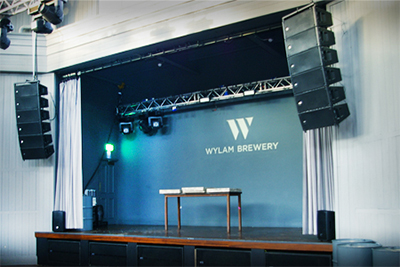 Among Newcastle-upon-Tyne's iconic buildings, the Grade-II listed Palace of Arts is now the headquarters of the Wylam Brewery – and a fully working brewery and events space.
The last building to survive from the North East Exhibition world fair of 1929 (opened by the then Prince of Wales – later Edward VIII) in the newly-redeveloped Exhibition Park, the Palace of Arts had been almost derelict for nearly a decade. Part of its return to service is the installation of an RCF D-Line HDL 20-A loudspeaker system by local company, Nitelites.
With the Grand Hall hosting a wide range of functions – brewers' markets, live music, weddings and corporate events, accommodating up to 800 people standing – a state-of-the-art sound system was required. Nitelites as introduced to the project by Events Director (and Brewery co-owner), Dave Stone.
'We trusted them to put in an installation commensurate with the wide range of events we would be staging,' he says. The director was also eager that the room be integrated within the brewery itself, giving it a unique feel by incorporating the barrel-ageing programme.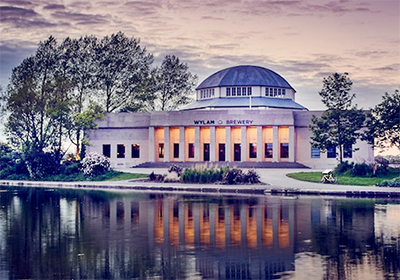 As a promoter on the local music scene, Stone has called on the Nitelites rental stock for previous venues that he had operated. He also knew that it had good visibility with sound engineers and could be supported by any additional equipment where required. Nitelites Director and sound system designer Andy Magee, recognised the challenges of working in a listed, single-glazed dome roof structure, with the combined problems of sound escape externally, and high reverberation internally.
'Initially the noise study limited the SPL considerably but by being able to demonstrate the clarity of the HDL20-A, and our ability to focus the energy onto the dancefloor, we have been able to increase the threshold to 100dB,' he says. The fact they were able to model the room in the industry standard Ease Focus 3 software was a further boost.
The installation uses hangs of six elements a side, relying of their 100° x 15° dispersion pattern to keep the sound under control. Recessed behind the front of the stage apron are five TTS36-A subs, housing two 18-inch neodymium woofers. In addition, six RCF NX15-SMA have been provided for stage monitoring with limiter and EQ structure programmed into a BSS Soundweb DSP.
'Since the brewery doesn't have a full-time engineer but relies on freelance engineers, who will mostly have experienced the system, the fact that the HDL20-A is equipped with several pushbutton correction tools enables them to change the low frequency and midrange summation to suit,' Magee says.
Supplied as part of a sound and light package, the Nitelites man concludes: 'There are a lot of dynamics in this system which enable the client to cater for a wide range of events. At the same time we have managed to keep reflections down to a minimum.' Stone agrees: 'We were unable to acoustically treat the room but Nitelites have absolutely nailed it with the RCF system. We have received great feedback as the system has settled into the different scenarios.'