Perth-based AAA Productions has served Australian live sound with high-end professional services for more than 25 years – a tenure that has seen its equipment portfolio grow in step with its expertise. Currently being the only certified L-Acoustics product supplier in Western Australia, the most recent addition to the AAA stock is a substantial L-Acoustics K2 loudspeaker system.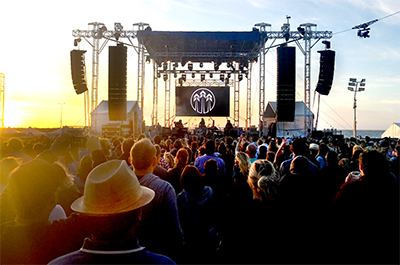 Supplied by integrated technology solutions company and L-Acoustics distributor Hills SVL, the system comprises 40 K2 enclosures, 24 SB28 high-powered subwoofers and six LA-Raks, ready to service AAA's festival and tour duties.
'We took delivery of our first L-Acoustics Kudo system back in 2005,' says Neil Campbell from AAA. 'We've been extremely happy with the L-Acoustics product since we first started using it, and wanted to continue our association with the manufacturer. We also had an existing V-DOSC system, which had served us well for many years, but we felt that it was important for us to be able to offer the very latest cabinets. When we were ready to look at a new system, K2 was the obvious choice because it's highly flexible.'
Since the company took delivery late last year, the K2 has been at work on high-profile productions including tours and one-off gigs by Michael McIntyre, Ronan Keating, John Butler Trio, Arcadia Spider, Garbage, Ben Harper, Missy Higgins and Rodriguez. Campbell is not only pleased with the performance of the system, but also the smooth way in which the purchase went through.
'Gerry Gavros at Hills assisted in expediting the sea shipment to meet our deadline for the summer festival season,' he says. 'In fact, the system arrived a week ahead of schedule, which allowed us more time to get familiar with it before hitting the road. And our audio guys are delighted; they love new toys and these are the best new toys we've had for a long time. Our clients are also impressed by the sonic improvements in the K2, especially in the high end, where it has a marked improvement in clarity and fidelity.'