Alcons Audio has selected Aplauz as its distributor for Poland.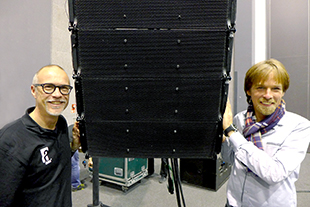 Established in 2003, Alcons is now among Poland's leading suppliers of professional audio equipment, carrying products from manufacturers providing the highest quality. 'We became aware of Alcons five or six years ago,' says Aplauz President/MD, Grzegorz Fotek. 'We have watched the company rise to the top of the industry, as people recognise that pro-ribbon technology delivers the very best possible sound. Alcons is now one of the world's leading audio manufacturers and everyone we speak to who listens to their technology is always very impressed.'
Aplauz and Alcons collaborated on a project in 2016 that included a shoot-out between a number of top loudspeaker brands. This was followed by an event in Łódź, which was the first official presentation of Alcons in Poland and included a presentation by Alcons co-founder Tom Back on pro-ribbon technology, and demonstrations of a nine cabinet-per-side LR18 system with BQ211 subs. The company's VR series point source systems and QR series line-source solutions were also demonstrated.
'It generated a lot of positive comments,' Back says. 'All of the attendees were unanimously surprised about the clarity, detail and sheer output of the systems.'
With further projects to follow, Fotek anticiaptes introducing more Polish venues and production companies to Alcons systems. 'In my opinio,n there is no doubt that Alcons are the best,' he says. 'Nobody else in the professional audio market has this kind of technology and we are happy to support them as one of the top brands.'
'Aplauz has established itself as one of Poland's leading and most trusted audio suppliers,' says Back. 'Bringing new technology to the professional market is not only about a great product, it's about the people who locally put their reputation behind those products.
'Grzegorz and his staff have chosen to communicate our commitment and belief in the benefits of pro-ribbon technology to their discerning clients in the Polish market. We feel a great responsibility to support Aplauz, and the two companies will work very closely to achieve the success in Poland that Alcons is experiencing worldwide.'