Signed to pioneering UK label Warp Records for 14 years before starting Jajulin Records, Jamie Lidell counts seven studio albums and performances with the likes of Prince, James Brown, Björk and Beck to his credit. Known for his own live shows, Lidell now relies on DPA Microphones.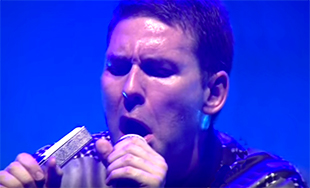 'Earlier in 2016, I had seen Stevie Wonder perform and was blown away by the sound he was getting from his microphones,' he says. 'When I investigated further, I discovered it was DPA's d:facto Linear Vocal Microphone. I must admit, most of the DPA mics I knew were more the precision condensers for studio use, so I was shocked to hear of a stage-ready mic. My last tour was the first time I tried DPA microphones and they were amazing.'
Lidell's current album, Building a Beginning was released in October 2016. Following its release, he recruited some of the world's best musicians as The Royal Pharaohs to tour Europe. 'My primary focus for the tour was to use a wireless microphone as the front man,' he says. 'I didn't want a microphone that was locked to a cable. In addition, I was using guitar pedals on a second vocal mic, so I did not want to dangle a cable over the centre mic set-up.
'I have not enjoyed working with wireless mics in the past and knew I would need something with detail. The DPA capsule system I used was genius. We used a Sony wireless body with the d:facto MMC4018V Supercardioid Microphone Capsules and it was a joy. No compression and a wonderful tone every night. I can no longer use anything else.'
Lidell's DPA mic package for his recent European tour included d:vote 4099 Instrument Microphones on the horns, bongo, conga, timbales, leslie and kick beater side, as well as the d:dicate 2011C Twin Diaphragm Cardioid Microphone on the guitar. He also used the d:dicate 2011ES Twin Diaphragm Cardioid Microphone with Active Cable on the snare and floor, d:screet™ SC4061 Miniature Omnidirectional Microphone on the inside of the kick drum, d:dicate™ 4015A on the drum and percussion overheads and d:facto Linear Vocal Microphone on lead and backing vocals.
'Getting heft from a closed kick is usually tricky, but the d:screet 4061 was a perfect addition to the setup,' he says. 'It is so small and nearly impossible to see, but the sound is huge. In addition, I don't like music stands and being able to use these mics on a drum set is amazing. The look of the kit has vastly improved; that's a big thing. The horns also needed mics that would clip on to bells and the d:vote 4099s were perfect.
'One thing people might be afraid of with these omnidirectional microphones is the added bleed, but we found that the new ambience that was generated was well-received,' he continues. 'It started to define the sound of the show in an excellent way. I think a great word for DPA microphones is detailed. With our DPA mics, a highly open picture of every instrument was achieved effortlessly. We had absolutely no issues with the DPA equipment on the tour at all. It all worked flawlessly. I plan on using DPA for all of my live performances moving forward, including future festivals in 2017 with the band.'
More: www.dpamicrophones.com