Martin Audio welcomes all comers at Old Billingsgate
Old Billingsgate is London's largest and latest 'blank canvas' venue, with the capacity to stage major events, from film premiere parties, private dinners, concerts and fashion shows to conferences and exhibitions.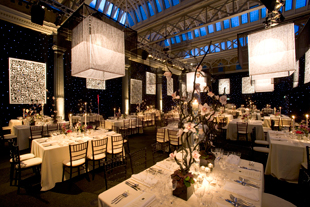 Offering three spaces, the largest is the 28,000-sq-ft hall, with triple height ceiling that can host sit-down dinners and conferences for upward of 1,000 people.
LCI was invited to tender for the technical design, installation and commissioning of a comprehensive house production system (sound, lighting and video) to accommodate any incoming production companies, along with smaller event clients without a regular production partner. Speed of rigging/derigging was an essential consideration, as was a small footprint – enter Martin Audio's W8LM Mini Line Array and MA series amplification.
Project Manager (and system co-designer) Carl Miller explains that in addition to the system's footprint, the W8LM was chosen for its high impedance – allowing multiple cabinets to be flown together. He also notes that the MA amplifiers each have a comprehensive DSP built in which negates the need for an additional external audio processor.
The brief for the multimedia integration was ease of patching into the main system should an incoming company wish to add further components, thus spare capacity was built into the control signal infrastructure. In addition, all systems specified needed to be future proof, reduce load-in times and prove themselves able to withstand the rigours of constant assembly and dismantling. Once again, the Martin Audio system met this criteria.
LCI specified two left/right hangs of Martin Audio line array, each comprising five W8LM elements and a W8LMD downfill unit per side – supplied by dealer, Capital Sound. The optional lifting bar and flying grid have been provided to give increased dispersion and coverage flexibility, since the line arrays are rigged on a per event basis to the specification of the incoming sound designer.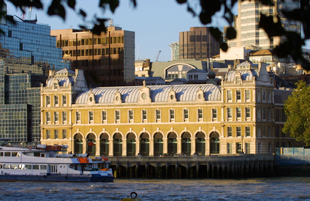 The low end of the system uses a pair of Martin Audio WLX subwoofers. The system is powered by four MA5.2K DSP amplifiers and an MA12K DSP amplifier for the subwoofers – the W8LM and W8LMD cabinets are bi-amped.
The Martin Audio line array forms the core of a complete audio system that includes infills for the upper and lower mezzanine and delay speakers, where required, and audio tie lines have been installed between various positions around the venue and patch through the system control room to any of the audio outlets around the venue.
The line array connection points have been installed in the two most commonly used orientations – high level on the first truss and high level above the north wall to allow the system to be operated in either orientation without cable flying above the audience.
All venue design and consultation was carried out by LCI Project Managers Carl Miller and Luke Bennett. Project Engineers were Huw Micklewright and Duncan Wood.
More: www.lci-uk.com
More: www.martin-audio.com
Jason Kelly: SSL

Jason Kelly has joined Solid State Logic as Product Manager, to spearhead the introduction of the company's new Live mixing console. With a 25-year career covering live sound production, live event...

Read More...
1
2
3
4
5
6
7
8
9
10
11
12
13
14
15
16
17
18
19
20
21
22
23
24
25
26
27
28
29
30
31
32
33
34
35
36
37
38
39
40
41
42
43
44
45
46
47
48
49
50
51
52
53
54
55
56
57
58
59
60
61
62
63
64
65
66
67
68
69
70
71
72
73
74
75
76
77
78
79
80
81
82
83
84
85
86
87
88
89
90
91
92
93
94
95
96
97
98
99
100
1
2
3
4
5
6
7
8
9
10
11
12
13
14
15
16
17
18
19
20
21
22
23
24
25
26
27
28
29
30
31
32
33
34
35
36
37
38
39
40
41
42
43
44
45
46
47
48
49
50
51
52
53
54
55
56
57
58
59
60
61
62
63
64
65
66
67
68
69
70
71
72
73
74
75
76
77
78
79
80
81
82
83
84
85
86
87
88
89
90
91
92
93
94
95
96
97
98
99
100