Innovason Eclipse in the mix at 'French Glastonbury'
Established in 1992 in Brittany, 'the French Glastonbury' – Les Vieilles Charrues – has rapidly become the biggest music festival in France. With 270,000 attending the four-day show in 2011, 2012 was set to break all records…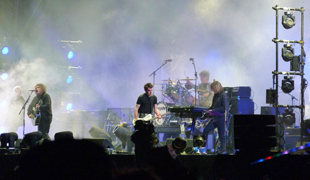 Headline acts for 2012 included Bob Dylan, Sting, The Cure and Kasabian, as well French artists Thomas Dutronc, Zebda, Orelsan and Amadou et Mariam.
Specialising in the live audio and video recording of major artists and events, Sombrero & Co was in action at the festival with three Innovason consoles – one for each of the main stages – used to handle live audio recording, mix and streaming for TV and future documentary and DVD release.
Each Eclipse console was connected to a DioCore stagebox plus, in the case of the main stage and specifically for the performances of Sting and The Cure (who required 80 inputs each), a further Muxipaire stagebox which added another 24 microphone inputs to the 64 provided by the DioCore. The Mars recorder onboard each Eclipse handled the recording from each stage, with post-fader input recording handled by three MT-128s from VB Audio – the same recorder that is inside the Eclipse – in order to keep the live mix destined for the TV channels. The signal from the stage to the console was transmitted via OptoCore over fibre-optic.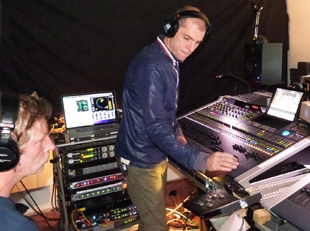 Each stage also used up to eight Neumann Solution-D digital microphones for ambience, directly controlled by the Eclipse consoles. These allowed Sombrero & Co access performances of artists to whom they did not have have recording rights.
According to Sombrero & Co's Benoit Gilg, who both engineered and headed up the sound recording team, the Eclipses performed impeccably: 'For me, the Eclipse is simply the most intuitive console available on the market today,' he says. 'For a start, you can configure it exactly as you want it, but even so, it works in exactly the same way as I think. For me, it's completely instinctive.
'The second big plus is the quality of the preamps, which are incredibly transparent and natural-sounding,' he continues. 'Personally I prefer to work with the purest sound possible from the source. I don't like it when equipment adds colour or tone that I then have to work hard to remove. I'd rather know that anything that has been added – or taken away – has come from me, and not the equipment I'm using. In this respect, I love the purity of the Innovason preamps. They give me the cleanest, highest possible quality sound with which to work from the outset.
'Products are born of people, and the relationships that you have with those people are important,' he adds. 'Hervé de Caro [the 'father of the Eclipse] is someone that is totally committed to his ideas, and utterly dedicated when it comes to support for his products. We know that we can rely on him completely to find the best possible solution for any given scenario.'
More: www.innovason.com
Hock Thang: Symetrix (Asia-Pacific)

Symetrix Technical Sales Engineer Hock Thang has been promoted to the newly-created position of Regional Sales Manager, Asia-Pacific. 'Since 2006, Hock has been an invaluable resource for Symetrix in...

Read More...
1
2
3
4
5
6
7
8
9
10
11
12
13
14
15
16
17
18
19
20
21
22
23
24
25
26
27
28
29
30
31
32
33
34
35
36
37
38
39
40
41
42
43
44
45
46
47
48
49
50
51
52
53
54
55
56
57
58
59
60
61
62
63
64
65
66
67
68
69
70
71
72
73
74
75
76
77
78
79
80
81
82
83
84
85
86
87
88
89
90
91
92
93
94
95
96
97
98
99
100
1
2
3
4
5
6
7
8
9
10
11
12
13
14
15
16
17
18
19
20
21
22
23
24
25
26
27
28
29
30
31
32
33
34
35
36
37
38
39
40
41
42
43
44
45
46
47
48
49
50
51
52
53
54
55
56
57
58
59
60
61
62
63
64
65
66
67
68
69
70
71
72
73
74
75
76
77
78
79
80
81
82
83
84
85
86
87
88
89
90
91
92
93
94
95
96
97
98
99
100